Latino Sluggers Struggles Leave Rangers on the Brink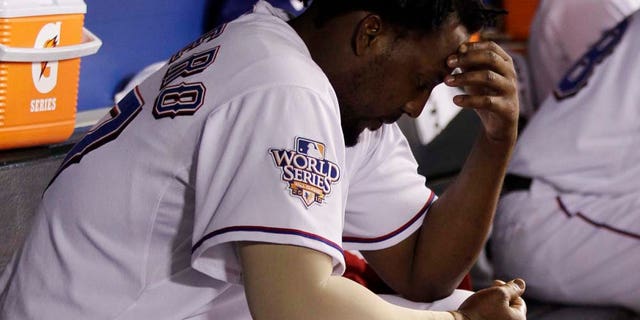 The two Latino stars most responsible for catapulting the Texas Rangers to the World Series are failing them at the worst possible time.
Vladimir Guerrero and Nelson Cruz have had miserable performances during the Fall Classic, leaving their team on the verge of elimination at the hands of the San Francisco Giants.
Guerrero, who hit 29 home runs and drove in 115 runs during the regular season, has batted only .100 during the series. He also had two errors in Game 1, forcing Rangers manager Ron Washington to bench the slugger in the following game.
With his team down 2-1 in the series, Guerrero had a Game 4 Sunday night to forget. He struck out three times.
In the seventh inning, with Josh Hamilton on base, Guerrero whiffed weakly at strike three. It was his his first three-strikeout performance in 43 postseason games, and his first for Texas this year.
"I'm surprised to be honest with you," said Hamilton. "Vladdy is a competitor.
"It looked like he was looking for a different pitch than what he got," Hamilton added. "He knew it was a strike and he tried to swing at the last minute."
Cruz, too, has under-performed so far. After slugging 10 extra base hits and scoring 11 runs in as many games heading into the World Series, Cruz has had only three hits for a .188 average.
The Rangers are 3-1 in the series and face elimination Monday night.
The team will send out ace Cliff Lee, who lost Game 1, to try to salvage their season.
"I certainly he'll do better (Monday). We feel pretty good about him being out there," said Washington. "Once again, we've got to put some runs on the board."
They'll try to do that against the Giants' own ace, Tim Lincecum.
The Associated Press contributed to this article.