Latest NFL mock draft: What's new after the start of free agency?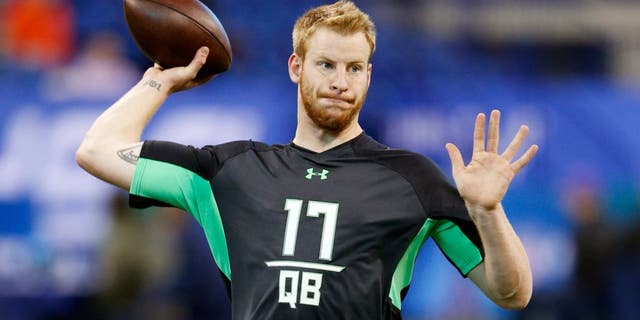 The start of free agency changed things for a lot of teams' biggest roster needs, but it didn't necessarily change their draft boards. Most of the top prospects have had their pro days, and I'm coming off a few days in Florida where I spoke with many of the NFL's 32 head coaches and general managers. It's time to update our mock draft.
You know the deal. This will change. Have an issue with the picks or who I have your team selecting? Hit me at PeterSchrager@gmail.com or on Twitter @Pschrags.
FIRST ROUND
1. Tennessee (3-13): Laremy Tunsil, OT, Ole Miss, Jr.
The word "king's ransom" has been thrown around for what it would take for a team to move up to the No. 1 pick, and in Florida at the owners meetings, Titans general manager Jon Robinson confirmed that he has had some conversations with other teams about potentially trading the pick. If Tennessee keeps it, I still see them going with Tunsil. The Titans gave up 54 sacks a season ago, the most in the entire league. 2014 first-round pick Taylor Lewan could shift to right tackle and Tunsil could man the left side. Quarterback Marcus Mariota can breathe easy, knowing he has protection on both sides for the near future.
2. Cleveland (3-13): Carson Wentz, QB, North Dakota State, Sr.
RGIII is in Cleveland. They're not done. Wentz backed up an impressive week at the Senior Bowl with an even more impressive week at the Combine, and then a nearly flawless pro day (he threw a soaking wet ball, squirted from a water bottle, into the dirt last Thursday) in Fargo. The two-year starter at NDSU measures in at 6-foot-5, 240 pounds, runs a sub-4.8 40-yard dash, and can make all the throws. He's never had less than an A in a class in his life and his teammates rave about him. Too good to be true? I'm told Wentz is even more impressive in interviews with teams. His dance card will be full the next few weeks, meeting with several clubs, and going through a slew of workouts. There's been comparisons to Andrew Luck, Carson Palmer, Alex Smith, and most recently, Cam Newton. He's worthy of the No. 2 pick. But don't sleep on Hue Jackson's love for Cal guys. And Jared Goff is as Northern California cool as you get.
3. San Diego (4-12): DeForest Buckner, DE, Oregon, Sr.
The Chargers run a 3-4, and it's rare to see a defensive scheme like that take an end so high in the draft. But Buckner could just be too good to pass up. He has monster 12-inch hands and moves like an NBA power forward. He is a 6-foot-7, 290-pound pure athlete who tore up the Pac-12 this season. He had 17 tackles for loss in 2015 and is my top defensive lineman in this draft. San Diego's D-Line was pitiful last year. They're desperate for a thumper up front. That's Buckner.
4. Dallas (4-12): Jared Goff, QB, Cal, Jr.
I'm still going with Goff to the Cowboys. There are multiple players they can take here, with Myles Jack, Joey Bosa, and Jalen Ramsey all worthy of the fourth overall pick. But I still think Jerry Jones knows what's the most important thing in football (besides the owner). And that's the quarterback. The Cowboys got a glimpse of what life without Tony Romo could be like this season, and it wasn't pretty. Goff is a big kid, a wonderful prospect who has all the intangibles, and has all the traits that could make the next great franchise quarterback in Big D. Tony Romo is 36 and coming off multiple surgeries. If Goff has to wait to play, that's OK. He'll be better for it.
5. Jacksonville (5-11): Jalen Ramsey, DB, Florida St., Jr.
Ramsey was an absolute star at the Combine and did it all during his time at Florida State. The Jaguars had one of the most underwhelming defenses in the league last year, and have already added Malik Jackson, Prince Amukamara, and Tashaun Gipson this offseason. They get Dante Fowler back next year. Add in Ramsey and this could be a defense with bite. Is he a safety or a corner? I'm not sure. But he's darn good and a great fit for whatever Gus Bradley wants to do on defense moving forward.
6. Baltimore (5-11): Joey Bosa, DE, Ohio St., Jr.
The Ravens were very active in free agency this year, bringing in Ben Watson, Mike Wallace, and Eric Weddle. Bosa was hyped as the next J.J. Watt throughout the college football season. He's probably not that, but that's OK. He's something special all the same. His dad played in the league (and still plays a major role in his life) and he's got an edge. We'll see, but I like the fit, regardless.
7. San Francisco (5-11): Myles Jack, OLB, UCLA, Jr.
Jack is the draft's biggest wild card but could also end up being its best player. If his rehab from a torn meniscus continues to progress -- as I'm told it is -- he'll be a top-10 selection. San Francisco needs game-changers on both sides of the field, and Jack is just that. I've heard mixed reviews on Jack's pro day workout, but overall it was better than expected. He jumped nearly 40 inches on a knee that's not even fully recovered. A freakish athlete and one that the 49ers would be happy to have lining up on Sundays.
8. Philadelphia (7-9): Ezekiel Elliott, RB, Ohio State, Jr.
A game-changer. Just what the Eagles' offense needs. I was told by an NFL scout that Elliott is the best blocking back to come into the NFL in "over a decade." Elliott is in the 10-20 range on most mock drafts. Watch. He could go as high as 4.
9. Tampa Bay (6-10): Vernon Hargreaves III, CB, Florida, Jr.
The Buccaneers have revamped their roster through free agency. It's hard not liking the additions of veterans Brent Grimes and Robert Ayers on defense and coming to terms with Doug Martin so he's back in Tampa Bay. Adding Hargreaves, the No. 2 defensive back in this draft, as the crown jewel of the defensive backfield would make a whole lot of sense. A local kid, Hargreaves was one of the few bright spots at Florida during his time there. He looks the part and could be a No. 1 corner from day one.
10. New York Giants (6-10): Leonard Floyd, OLB, Georgia, Jr.
Think the Giants are done revamping that defense? Think again. I know Floyd isn't in the top 10 of many mock drafts, but I've got him going to New York at 10. They brought back Jason Pierre-Paul for a year and added Olivier Vernon, Janoris Jenkins, and Damon Harrison on long-term contracts. Four studs. They still need an outside linebacker who can come off the edge. He checked all the boxes in his height and weight, and ran a 4.6 40-yard dash before bowing out of the three-cone drill, 60-yard shuttle, and bench press at the Combine.
11. Chicago (6-10): Ronnie Stanley, OT, Notre Dame, Jr.
Right behind Tunsil on the offensive line board this year is Stanley. The Notre Dame star had a great Combine week and is as tough and smart as advertised. He's 6-foot-6, 312 pounds, dominated opponents his entire career at Notre Dame, and had an arm length and hand size longer than Tunsil in Indianapolis. Jay Cutler was under constant duress last season. The Bears signed Bobby Massie in free agency, freeing up Kyle Long a bit, but need another young force to protect their $100 million investment.
12. New Orleans (7-9): Sheldon Rankins, DT, Louisville, Sr.
The Saints addressed some defensive needs in free agency and quietly did very well despite limited salary cap space. They're not done in that area. Rankins was the star of the Senior Bowl practice week before getting injured and missing the game. He could be the missing piece in the middle of the New Orleans defensive line. Rare combination of speed and power.
13. Miami (6-10): Jack Conklin, OT, Michigan State, Jr.
If Ryan Tannehill's ever going to succeed, he's going to need to stay on his feet. Conklin could go as high as the top 10 and through the Combine and pro day workouts, he solidified his place as the third or fourth offensive tackle in this draft. Miami's got several veterans on the offensive line and Ja'Wuan James will be back this year. I don't think they pass on Conklin.
14. Oakland (7-9): Reggie Ragland, LB, Alabama, Sr.
I haven't seen Ragland in the top 15 of many mock drafts, but I think this is a perfect fit. Oakland has spent a lot of money on a cornerback and pass rusher in free agency, but it needs to shore up the middle of the defense. In addition to Sean Smith and Bruce Irvin, they can add Ragland, the MLB of the future. The Raiders don't have a great recent history with middle linebackers from Alabama (Rolando McClain), but Ragland's a different type of player.
15. Los Angeles (7-9): Eli Apple, CB, Ohio State, Soph.
The Rams lost out in the Janoris Jenkins sweepstakes, and it was actually pretty close. Now they've got Trumaine Johnson on what looks like a one-year deal at the moment and a defensive backfield that lost Rodney McLeod, too. One of the best young defensive back corps in the league is now a bit vulnerable. Apple is a rangy, 6-foot-1 cornerback who can get after it. Yes, Paxton Lynch is on the board, and I've got the Rams taking a cornerback.
16. Detroit (7-9): Shaq Lawson, DE, Clemson, Jr.
Lawson tore up the Combine and put himself firmly in the top 20 in Indianapolis. He's had some great workouts, too. 270 pounds, 4.7 40-yard dash, and explosive off the edge. The Lions are under new leadership and Bob Quinn did nice work in free agency after Calvin Johnson retired earlier in the month. This is a good fit for all parties, and lining up across from Ziggy Ansah, Lawson could make an impact from the get-go.
17. Atlanta (8-8): Darron Lee, LB, Ohio State, RS Soph.
There will be nearly a dozen players out of Ohio State drafted in the first 100 picks. Lee is fourth on my list and could end up being the best of all of them at the next level. He's a bit small on first sight and doesn't look like a traditional NFL linebacker (235 pounds), but Lee flies all over the field and can rush the quarterback. Dan Quinn wants competitors and if ever there was one, it's Lee. Compared favorably to Lavonte David, he could be a force in Atlanta.
18. Indianapolis (8-8): Taylor Decker, OT, Ohio State, Sr.
Another Buckeye off the board. Decker is 6-foot-7, 315 pounds and can move. Agile and strong, he's a left or right tackle and can likely play as soon as next season. Andrew Luck gets another big body to protect him.
19. Buffalo (8-8): Jarran Reed, DT, Alabama, Sr.
The Bills would likely love to see one of the top offensive or defensive tackles sitting there for them to take. Reed is in that second tier of prospects but is no slouch. Quarterback could be a position to watch, too. Remember, Tyrod Taylor is entering the final year of his contract.
20. New York Jets: Andrew Billings, DT, Baylor, Jr.
The Jets had arguably the best defensive line in all of football a year ago. Damon Harrison is playing for the other team in town, Muhammad Wilkerson isn't thrilled with the franchise tag, and Sheldon Richardson's going to need a new contract before you know it. The Jets went with Leonard Williams in the first round a year ago when defensive line wasn't a big need. I can see them going defensive line again now that it suddenly is.
21. Washington (9-7): A'Shawn Robinson, DT, Alabama, Jr.
The run on defensive tackles continues. Don't be shocked if 8-10 go in the first round next month. Robinson's massive. If Pot Roast Knighton isn't coming back to Washington, Robinson could be a nice replacement. He played in 43 games under Nick Saban and was a team leader for a national champion. No nonsense and gets after it.
22. Houston (9-7): Laquon Treadwell, WR, Ole Miss, Jr.
The Texans already added Brock Osweiler and Lamar Miller this offseason. Imagine adding Treadwell, too. The best pure receiver in this draft, he's compared to Anquan Boldin -- a tough, strong, smart route-runner. He'd be the perfect complement to DeAndre Hopkins.
23. Minnesota (11-5): Josh Doctson, WR, TCU, Sr.
Teams are a lot higher on Doctson than I was aware of heading into the Combine, and he really delivered on their praise in Indy. He's 6-foot-2, 220 pounds, and jumped 41 inches in the air (best of the wide receivers). Doctson had a great career at TCU, which was shortened by injury last season. He high-points the ball and just snags it. If Teddy Bridgewater is in need of a guy to grow old with, I could see Doctson being that guy.
24. Cincinnati (12-4): Corey Coleman, WR, Baylor, Jr.
Both Mohamed Sanu and Marvin Jones signed elsewhere for big money this offseason. Look for the Bengals to re-load. Coleman had 74 receptions for 1,363 yards and 20 touchdowns last season. His season was cut short with an injury, but he should be fine come Week 1.
25. Pittsburgh (10-6): Paxton Lynch, QB, Memphis, Jr.
Paxton Lynch has all the physical tools. But there are questions as to whether he's able to play in Year 1. If that's the case, he could slip a bit more than expected in the draft. Ben Roethlisberger isn't going anywhere soon (he just signed a long-term extension), but if Lynch is on the board at 25, don't be shocked if Pittsburgh scoops him up. Landry Jones is a free agent next year and Michael Vick remains unsigned.
26. Seattle (10-6): Germain Ifedi, OT, Texas A&M, Jr.
Ifedi is an intriguing prospect who has first-round grades for most teams. He's 6-foot-6, can move, and has 36-inch arms. Russell Okung is in Denver. Seattle fans watched Carolina's defense destroy their O-line for a half in the divisional round last year. Ifedi's a starter.
27. Green Bay (10-6): Jaylon Smith, LB, Notre Dame, Jr.
Smith's a fascinating case study. We might not see him on an NFL field for another year. Who'll be bold -- and patient -- enough to find out what he's like after he recovers from his heinous knee injury? Green Bay did nothing in free agency and likes to build through the draft. If there's any team willing to take a roll of the dice on the long-term, it would be Ted Thompson and the Packers. If healthy, Smith could still end up being the best defensive player in this entire draft. One GM told me he was the top player on his board entering college bowl season.
28. Kansas City (11-5): Kamalei Correa, OLB, Boise State, Jr.
We know Justin Houston's got injury issues and Tamba Hali can't play forever. Here's your guy who no one was talking about a few months back that cold go in the first round. He clocked a 4.69 in the 40 and showed exceptional athleticism in drills. Correa appears to be a good fit for a 3-4 team looking to beef up their outside pass rush. The Chiefs are a team looking to do just that.
29. Arizona (13-3): Robert Nkemdiche, DT, Ole Miss, Jr.
I asked nearly a dozen talent evaluators about Nkemdiche at the Combine and there are no questions that he's a good enough player to be a star at the next level. The off-the-field concerns are real, but he won't be the first defensive lineman in NFL history with a troubled past. Is there any coach better for this kid than Bruce Arians? His line, so many times before, is "I'll coach him up, baby." This is a great fit for both sides.
30. Carolina (15-1): Jason Spriggs, OT, Indiana, Sr.
A high school tight end, Spriggs was a four-year starter at left tackle for Indiana and played his best against Ohio State's Joey Bosa. He scooted at the Combine and performed well enough to confirm he's a first-round pick. Mike Remmers and Michael Oher were exposed a bit in the Super Bowl. Spriggs is a solid addition.
31. Denver (12-4): Connor Cook, QB, Michigan State, Sr.
Cook comes from an NFL offense, has 34 wins on the college level, has finally recovered from his shoulder injury, and can challenge Mark Sanchez in training camp for the starting job. At 31? Why not?
NOTE: New England has no first-round pick.