Latest NBA mock drafts tab Marquette's Ellenson as late lottery pick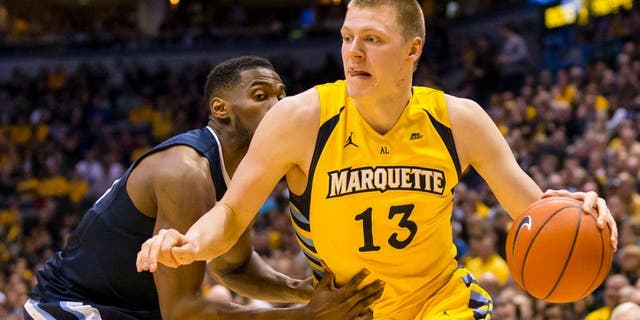 NEWYou can now listen to Fox News articles!
There has been a lot of talk about Henry Ellenson, who left Marquette after his freshman season, being a lottery pick in the year's NBA Draft.
A search of the latest mock drafts indicates many believe that to be true -- but not to expect Ellenson to go until later in the lottery, if at all. That's a bit of a change since the last time we did a mock roundup for Ellenson.
There is no consensus as to when Ellenson will be selected in the mocks, but anywhere from 9-13 seems likeliest.
With the draft less than two weeks away, here's a look at where the prognosticators are thinking Ellenson will land.
Andrew Sharp of SI.com: No. 13 to Phoenix. "Ellenson's gone much higher in some of the past mock drafts, but this feels closer to where he'll end up. He's got good size and his shooting should be able stretch the floor as a four or five, but what sets him apart from someone like Dragan Bender, for instance, is his lateral movement on defense. He may struggle in switches, and he won't protect the rim right away. He probably projects as something like a poor man's Kevin Love. While that may not be a top five pick, he's worth it late in the lottery. "​
Derek Bodner of USAToday.com: No. 13 to Phoenix. "Concerns over Ellenson's defensive contributions could cause him to slide a bit on draft night, but his offensive potential would be a nice get here for a Phoenix team that could use some punch in the front court."
Chad Ford of ESPN Insider: No. 9 to Toronto. "Power forward is their biggest need and the choice will likely come down to Ellenson, Skal Labissiere, Deyonta Davis and Domantas Sabonis. You can make an argument for all four. Labissiere is the best shooter and has the highest ceiling (but also the lowest floor). Ellenson gives you a lot more game, but without the same elite athleticism."
Sam Vecenie of CBSSports.com: No. 12 to Utah. "Ellenson would give the Jazz a bit of a different look in terms of their frontcourt. As something of a stretch-four, he would give them the floor spacing that they typically don't have when Rudy Gobert and Derrick Favors share the floor. Plus, you could play any combination of these three players together and probably be relatively okay in terms of offense and defense. Ellenson would be a really great grab for them given that there isn't really the kind of big, athletic wing that they so crave at this stage of the draft."
Gary Parrish of CBSSports.com: No. 9 to Toronto. "Toronto has a need at power forward, which makes Ellenson an option. The one-and-done prospect is only 19. And though he didn't shoot a good percentage from beyond the arc at Marquette, he has the tools to be a stretch-four. Combine that with his polished low-post game, and Ellenson has one of the highest ceilings in this draft."
Hoops Hype: No. 11 to Orlando. "If Orlando believes in Ellenson's potential, he would provide a solid complement to Aaron Gordon with his face-up skills. Ellenson is well liked by scouts for his ability to hit shots and potential, considering his size and skill level. He may struggle initially with the speed of the NBA game, particularly on the defensive end, but the hope is that he will continue to gain speed and athleticism as his body matures."
Paul Banks of the Washington Times and David Kay of The Sports Bank via WalterFootball.com: No. 12 to Utah. "Ellenson's multi-dimensional offensive attack would add some diversity and needed depth to the Jazz's frontcourt."
NBADraft.net: No. 16 to Boston.
DraftExpress.com: No. 10 to Milwaukee.
Alex Ballentine of Bleacher Report: No. 13 to Phoenix.
Basketball Insiders: Alex Kennedy -- No. 11 to Orlando; Joel Brigham -- No. 9 to Toronto; Moke Hamilton -- No. 13 to Phoenix; Steve Kyler -- No. 10 to Milwaukee.
DraftTek: No. 13 to Phoenix.
NESN's Nicholas Goss: No. 17 to Memphis.