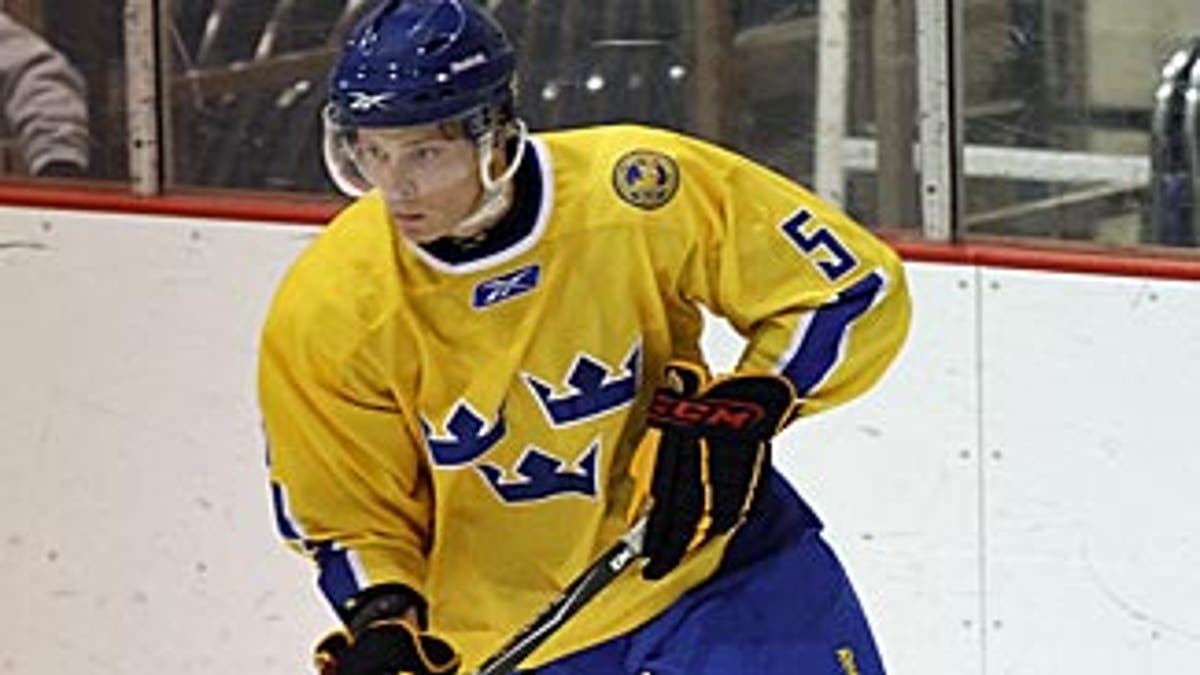 What is the chance defenseman Adam Larsson becomes the first Swedish-born player to be taken first in an Entry Draft since Mats Sundin was taken by the Quebec Nordiques with the first pick in 1989?
Actually, the odds are pretty good for Larsson to earn the distinction when the first round of the 2011 Entry Draft is held June 24 at Xcel Energy Center in St. Paul, Minn.
While he battled groin and shoulder injuries this season, Larsson returned to the ice each time to showcase his wide range of irresistible traits, including size (6-foot-3, 200 pounds), skill and poise. And keep in mind, the 18-year-old Larsson was performing against men, some twice his age, in Sweden's Elitserien. He also represented his country at the 2010 and 2011 World Junior Championships, finishing as the team's highest-scoring defender at the tournament this past January with 4 points in six games.
"Adam has everything you need to be a professional in the NHL," Swedish National Team coach Roger Ronnberg said. "The smartness and skills that this kid has makes him one of the top players in the world. He plays really mature. Sometimes you feel he's 35 years old. (Tampa Bay defenseman) Victor (Hedman) is strong in his own end; Larsson is more skilled with the puck."
Hedman, who also played in the Elitserien in his draft year, was chosen by the Lightning with the second pick of the 2009 Entry Draft.
It wasn't much of a surprise to see Larsson's name atop NHL Central Scouting's final ranking of the top International skaters, released Monday.
One European NHL scout from a Western Conference team told NHL.com that Larsson might be ahead of where Hedman was at this stage in his career.
"Hedman was allowed to do more with his home team in Sweden, so they let him be more active with the puck and try different things," the scout said. "I think Adam Larsson plays a safer game. I certainly think he has the same potential as Hedman. He's every bit as good with the puck and he might be a touch tougher. Hedman is a little bigger, but they're both unbelievably good skaters. I think I would take Larsson over Hedman if I could, based on what I've seen the last three years."
Larsson currently is playing for Skellefea AIK, where he has 8 assists, 9 points and 41 penalty minutes in 37 regular-season games.
The No. 2-rated skater among the International prospects is fellow Swede Mika Zibanejad, a 6-1 1/2, 191-pound center who had 5 goals and 4 assists in 26 regular-season games for Djurgarden.
"Mika's a real power forward but also has soft hands, good vision and fine skating skills," NHL Director of European Scouting Goran Stubb told NHL.com. "He has tremendous balance and is hard to knock off the puck. He's very strong in the battles along the boards, finishes checks with authority and has a heavy shot that he gets off quickly."
Zibanejad, whose mother is Finnish and father is Iranian, admits he has his own style in the heat of battle. Still, he does find himself mimicking a few NHL superstars on occasion.
"I watch Sidney Crosby for the work he does at center; I watch Alex Ovechkin for the way he scores goals and I watch Pat Kane for the way he stickhandles," Zibanejad told NHL.com. "I'm not that type of guy to just look for the big hits. I try to play physical but that's only because I want the puck back. Sometimes you have to finish your checks on defensemen in order to tire them out."
Swedish defenseman Jonas Brodin is No. 3 on Central Scouting's list, followed by Finnish forward Joel Armia and Czech right wing Dmitri Jaskin.
"Brodin is a very mature (defenseman) with good mobility, smarts and coolness," Stubb said. "He's effective in one-on-one situations. He has an OK frame (6-1, 169), but could use a little more weight."
Armia, a 6-foot-3, 191-pound right wing, had 18 goals, 11 assists and 24 penalty minutes in 48 regular-season games for Assat Pori in the top Finnish men's league this season.
"He's going to be a different kind of Finn in the NHL," predicted Assat Pori coach Pekka Rautakallio. "He just needs to add a couple more kilos to that frame of his. I know there have been comparisons to Teemu Selanne, but while they both have that sniper mentality, Teemu was quicker when he arrived in the NHL.
"The thing I like about Joel is he's very humble. He wants to know what I expect and he's willing and ready to execute it. That tells me he really wants to learn how to play, how to be a better hockey player."
The top European goalie is Finland's Samu Perhonen, who has a 2.71 GAA and .922 save percentage in 29 games with JYP's under-20 junior team. He also posted a 2.80 GAA and .918 save percentage in five international contests.
"He's an excellent, big goalie and was a key player when his team, JYP, won the Finnish junior title," Stubb said.
One goalie to keep an eye on will be Switzerland's Benjamin Conz, who was passed over at last year's draft despite being named the top goalie at the 2010 WJC.
Conz, rated No. 4 among European goalies for the 2011 Entry Draft, did wonders for his draft stock at this year's WJC in Buffalo, N.Y. While his 5-foot-10, 207-pound frame might be a turnoff to NHL teams, it certainly didn't both him at the World Juniors this year. Despite a 2-3-0 record in six games, he sported a 2.97 GAA and .918 save percentage as the Swiss took fifth at the tournament.
"I think those countries such as Germany, Switzerland and Norway, who have to prove themselves over and over again, is probably why no one drafted Conz when he was first eligible last year," one NHL scout told NHL.com. "I wouldn't be surprised if someone drafts him this year in the late rounds, though, because he's now proven the last couple of years that he's a good goalie. The only concern is his size."
Follow Mike Morreale on Twitter at: @mike_morreale