Larson bringing back iconic Mello Yello paint scheme for Darlington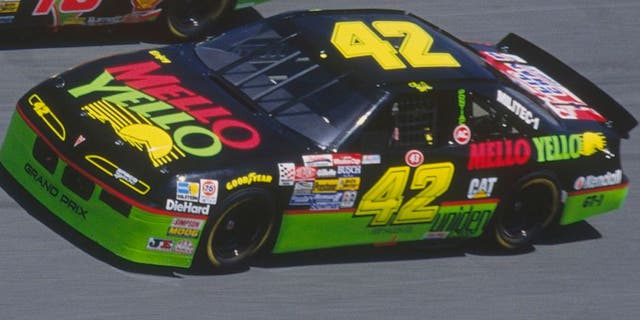 With the Southern 500 returning to its traditional Labor Day weekend date at Darlington Raceway, many NASCAR Sprint Cup Series teams have been debuting throwback paint schemes to mark the historic race weekend.
Wednesday afternoon, Chip Ganassi Racing with Felix Sabates announced it would be bringing back one of the most popular and iconic paint schemes of the early 1990s.
Sophomore driver Kyle Larson will pilot the No. 42 Mello Yello Chevrolet, originally driven by Tom Cruise in the film "Days of Thunder" in 1990, and then by Kyle Petty from 1991 until 1994 in the NASCAR Sprint Cup Series.
While the fictional Mello Yello car driven by Cruise in the film was No. 51, Petty's ride was owned by Ganassi co-owner Felix Sabates and was the same No. 42 Larson now drives.
"This paint scheme has such a cool history between the movie and Kyle Petty having run it for Felix, so I'm really excited to drive it," said Larson. "'Days of Thunder' is definitely one of my favorite racing movies, and I know it's a favorite for a lot of fans too. The connection with Felix is pretty cool.
"Even though I was too young to watch Kyle Petty driving the Mello Yello car, I know people will remember the scheme from those days, as well as his crazy hair from back then," he said. "There's just a lot of fun stuff surrounding this car, so I'm really glad that the Target team is able to run it for Darlington's throwback race. I think the fans are really going to like it."
While Larson was too young to watch Petty's No. 42 Mello Yello car race around the track, the return of the iconic colors brings back a lot of memories for Sabates.
"Running the Mello Yello paint scheme for the throwback-themed race weekend at Darlington Raceway will be great," he said. "For me, having run this car with Kyle Petty earlier in my career, it is very special to see it on track again with Kyle Larson. I'm sure this car will help add to the excitement that's already surrounding this year's Southern 500."