Larry Nance scores put-back for Clippers -- only he's on the Lakers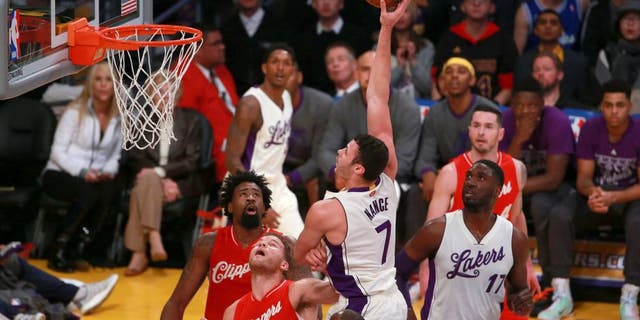 Often, when a big man can't get both hands on the ball for a rebound, he'll do what he can to tip the ball to a teammate. We're guessing that's what Los Angeles Lakers rookie Larry Nance Jr. was going for on this rebound attempt during the first quarter of Friday's game against the crosstown rival Clippers. Unfortunately, things took a wrong turn -- into the Clippers' basket:
For the record, the basket went down on the play-by-play as a field goal for DeAndre Jordan. It's a nice reminder that sometimes it pays simply to be in the right place at the right time.
Can Lakers fans even be mad at Nance for this one? Heck, can Byron Scott be mad? It's really more impressive than anything. Nance probably couldn't do that again if you gave him 10 tries and an open rim. Of course, he probably wouldn't want to, anyway.
If the Lakers ever put together a volleyball team, though, they likely found their first overall pick. Put Roy Hibbert as a blocker at the net and they'd be in business.