Larry Mac: Wild elimination race at Dover a real head-scratcher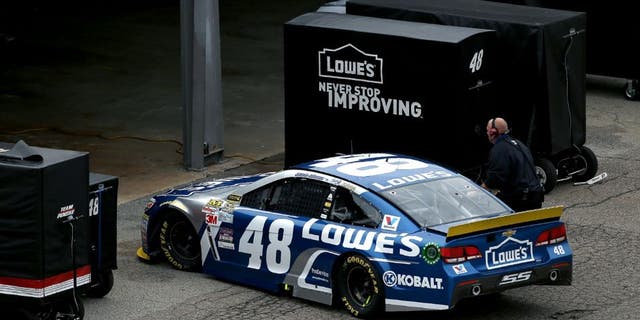 NEWYou can now listen to Fox News articles!
I still have to admit that I am scratching my head over what I witnessed Sunday at Dover. I never thought we'd have a race where a driver led 355 of 400 laps yet we still walked away from the race going, "WOW!" I'll be the first to admit that's what I walked away with from Dover.
The storylines coming out of Sunday's race are endless. Unless you are a Jimmie Johnson or Jamie McMurray fan, there really wasn't anything negative you could take away from Dover. Kevin Harvick hadn't won a race in six and a half months. He walked into Dover knowing it basically was win or go home from the Chase. Both he and crew chief Rodney Childers knew that probably even a second-place finish wasn't going to be enough for them to advance to the next Chase round. It was just simply phenomenal with their backs to the wall what they accomplished Sunday.
This Challenger Round of the Chase that we just completed was 967 laps of racing. What is mind-blowing to me is at the end of those 967 laps, we pulled out of Dover with seven drivers separated by two points. Of that, one of those drivers did not move on even with a fourth-place finish Sunday. Naturally I am talking about Jamie McMurray. To take this even one step further, we had half the Chase field, eight drivers, separated by only six points.
That just goes to show you where our competition is in the NASCAR Sprint Cup series. I know in the first 26 races, which we call the regular season, you hear us always talking about "win and you are in," meaning a driver has gotten a win and pretty much guaranteed a spot in the Chase. Then I think to a certain degree we downplay that next win that the driver gets.
Then I saw what unfolded with Dale Earnhardt Jr. and Jamie McMurray tying in points, but Dale advancing because he finished third in the race, with Jamie fourth. So what would have happened if Dale Jr. hadn't had that second win earlier this season? If he didn't have that second win on the board – and the three bonus points that came with it -- he wouldn't have moved on in the Chase.
What if Kyle Busch hadn't gotten his fourth win after returning from his injury in February in Daytona? Kyle wouldn't have moved on without it. So my point is I think we all see very clearly now that while it's important to get that first win to make it into the Chase, you better work just as hard to keep winning based on the three bonus points each win in the regular season gives you once the Chase starts.
I know going into this race we all talked about the possibility of Kevin, Kyle or Dale Jr. not advancing to the next round. Is there anyone who ever thought Jimmie Johnson, a 10-time winner at Dover, wouldn't advance?
On top of his previous Dover success, Jimmie had a 27-point cushion, but now a $20 part, if it even costs that, has kept him from moving on.
He and crew chief Chad Knaus may race together 10 more years and it will never happen again. For all we know, it may never happen again, period, but it happened to Jimmie and Chad, and "POOF" went their bid for a seventh championship. It's just one of those things that happens in racing that will be talked about for years.
Now we move one to the next round of three races. It starts this weekend at Charlotte and I, for one, can't wait to see what twists and turns we all go through on this next round.