Larry Mac: Teamwork is key to Joe Gibbs Racing success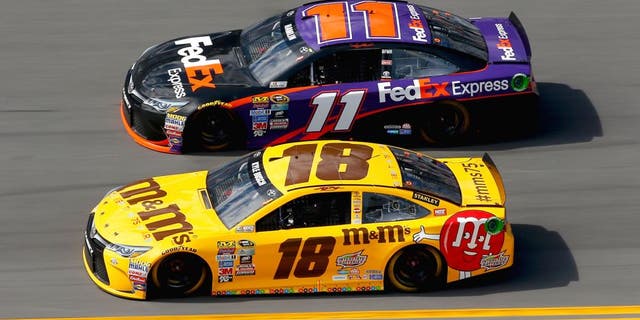 In their second year of fielding four cars, it's interesting to see what has evolved at Joe Gibbs Racing.
Not only from what I'm seen, but also from what I heard in team radio transmissions throughout Speedweeks, I really believe that collectively, they only care about winning as an organization -- not focusing on it as individuals. For example, I heard Denny Hamlin on the radio during the Sprint Unlimited talk about how they could get the win for JGR.
I think it's the philosophy Coach Joe Gibbs has instilled in everyone at the shop. It also helps that all four drivers and cars in his stable are competitive.
I could see where if one of their cars wasn't competitive or capable of winning on any given Sunday, there might be a basis for growing animosity. That simply isn't the case there. All four drivers -- Hamlin, defending champion Kyle Busch, Matt Kenseth and Carl Edwards -- can win no matter what track we visit.
Go back to last year, where every single driver at JGR won multiple races. Right now those four drivers are doing an unbelievable job of putting the organization first -- putting themselves second. It just seems to me they want to make sure JGR wins and that's the bottom line.
I heard a saying many years ago, and when I went to Richard Childress Racing, I hung a sign in the shop with this quote on it: "There's no one smarter than all of us working together."
I think you are seeing the living, breathing embodiment of this at JGR right now.