Larry Mac on Sprint Cup drivers in XFINITY: 'They have to fix this'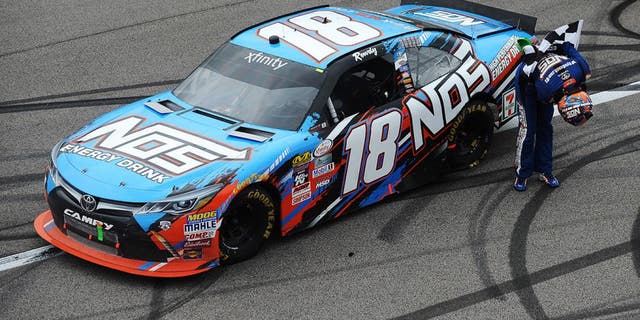 NASCAR needs to do something with Sprint Cup drivers in XFINITY Series races. I'm going to be smart enough and open-minded enough to not say they've got to get rid of them all together. I realize that's not going to happen.
Because I do respect that the owners in that series, whether it's JR Motorsports, Joe Gibbs Racing, Team Penske, just name them -- when they go out and sell sponsorships to run young drivers, the selling point is you're going to get Kyle Busch for 10 races or Denny Hamlin for a few, or you might even get Dale Earnhardt Jr. I get that and I respect that.
But with that said, we've got a golden opportunity to right it, almost a year out.
In the XFINITY Series, I think a wonderful compromise is you have 26 regular-season races to run your Cup guy. And if you want to run your Cup guy all 26, have at it. Race 'till your tongue runs out.
But we created a Chase in the XFINITY Series to spotlight that series and those drivers and you know what? They're not even getting a piece of the spotlight.
I sat and I watched the Charlotte race from green flag to checkered, I sat and I watched the Kansas race from green flag to checkered and it's not good. It's just not good. And they have to fix this.
Right now, I'm sorry, but Brian France, Mike Helton, anybody in NASCAR can walk in and say, "Larry, you're wrong about this and here's why." You know what? You're not going to get me to move on this one. I'm not moving.
You created something exciting. We have a seven-race Chase and we're spotlighting these stars: Erik Jones and Daniel Suarez, Elliott Sadler and Brendan Gaughan, Ryan Reed and Bubba Wallace, yet you're letting Cup guys -- Cup champions, for that matter -- come in and dilute it.
You've got to fix this.
Now, if you want to limit Cup drivers to 10 or 15 or a dozen XFINITY races, I don't care. Like I said, I'm not worried about the first 26 races.
In a perfect world, I'd like to see more races without 'em, period. I go back to the Kentucky race a few weeks ago, one of the best damn races we had all year in that series. You had one Cup guy in that race, Ryan Blaney.
So we don't have to have Cup drivers in the field to have good racing.
And there's a certain promoter who told me that whether it's his companion races or his standalone races, Cup guys make the needle move little to none on ticket sales. He said, "We even had Dale Earnhardt Jr. race here three years ago, and we didn't see the needle move, period." So I don't want to hear about that.
I'm telling you, you've got to fix this, NASCAR. You've got to fix this or this series is going to die.