Largely unnoticed in recruiting, Scooby Wright now in the spotlight for No. 14 Arizona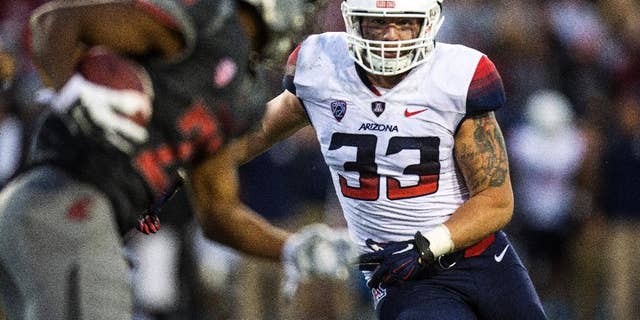 TUCSON, Ariz. – When Arizona coach Rich Rodriguez put on the highlight video of unrated high school linebacker Scooby Wright, he hoped nobody else was seeing what he saw.
"It was like, 'You mean, nobody is recruiting this guy?'" Rodriguez said of his initial reaction. "It was one of those deals where you watch and you're like, 'He's got size, he's a tough guy, he runs around ... let's offer him and hope no one else does. Can we keep it a secret?'"
Wright stayed a secret for most of the recruiting process, but he's squarely in the spotlight now.
The Wildcats' sophomore linebacker is second nationally in tackles for loss (2.0 per game), third in sacks (1.29 per game) and is tied for 11th in tackles (11.1). Wright made one of the plays of the year in college football when he stripped and recovered the ball from quarterback Marcus Mariota to help preserve Arizona's win at then-No. 2 Oregon last month.
"He's been everything and then some," Rodriguez said.
Phillip Wright III — he's been called "Scooby" since his dad looked at him as a baby and said, "Oh, my little Scooby-Doo" — had three sacks and three forced fumbles last week as Arizona (6-1, 3-1 Pac-12) won 59-37 at Washington State. The Wildcats moved to 14th in The Associated Press poll and landed at No. 12 in the initial College Football Playoff rankings.
With Wright as its defensive centerpiece, Arizona plays at No. 25 UCLA on Saturday night.
"I love him," Bruins coach Jim Mora said of Wright.
"First of all, I love his name. Secondly, I love the energy he plays with. I love those types of guys that just play with their hearts. I think he plays the run well, I think he's a good rusher, I think he can cover, but the thing that I most respect about him is the energy and the passion he plays the game with."
Wright (6-foot-1, 246) was mostly off the recruiting radar while at Cardinal Newman High in Santa Rosa, California, about an hour north of San Francisco. Arizona was the first school to offer a scholarship, in late May 2012. He accepted a few weeks later.
"They believed in me from the beginning," Wright said. "There was never any gray. They knew they wanted me and offered me right away and I said, 'I'm not going to mess with anybody else.'"
At the end of his senior season, the major recruiting services merely gave him the courtesy of a two-star ranking out of five, a slight he still wears as a motivating badge of honor, judging by his Twitter handle — @TwoStarScoob.
Wright played outside linebacker last season before taking over at middle linebacker this season to replace departed Jake Fischer. Arizona will move Wright around in its 3-3-5 scheme, though, especially on passing downs. Wright was a full-time edge rusher last week against pass-happy Washington State.
"That was a blast," he said. "That was probably the most fun I've ever had in a football game."
Rodriguez said it's becoming rarer to find a true recruiting "sleeper" because of online video and social media, but Arizona found one in Wright by trusting its own evaluation. Wright "is more athletic than maybe people give him credit for," said Rodriguez, adding that Wright also works harder than anyone on his defense.
"I knew I was better than some of the guys that other schools recruited," Wright said. "I'm just one of those people who like to prove people wrong."