LAPD asking for help in finding missing Special Olympian from Albania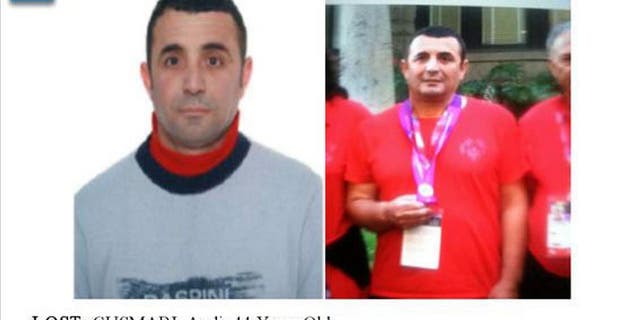 The Los Angeles Police Department asked for the public's help Sunday morning in looking for an Albanian athlete who went missing after competing in the Special Olympics, just hours before the Games came to an end with closing ceremonies.
The LAPD said 44-year-old Andi Gusmari was last seen Saturday at about 8:30 p.m. at the University of Southern California. The Los Angeles Daily News reported that Gusmari does not speak English, and that he failed to return to his dormitory Saturday night.
According to investigators, Gusmari was wearing a red shirt that says "Albania" in black letters on the back, as well as black track pants with white trim and white tennis shoes. Police described Gusmari as 5 feet, 9 inches tall and weighing 180 pounds. He has black hair and brown eyes.
"We consider him right now that he's critical missing only because of the time of night he went missing and the inability of us to not locate him in the early morning hours," LAPD commander Dennis Kato told reporters. "He should have stood out."
Gusmari participated in a bowling competition and suffers from a speech impediment. NBC-LA reported that LAPD is considering the possibility that "Gusmari did this on his own accord. (Police) say that he is able to take care of himself and that his only disability is the speech impediment."
Also according to NBC-LA, the Albanian team was scheduled to fly out of Los Angeles at 4:15 p.m. local time Sunday, and that "most of (the Albanian) team members went on that flight as scheduled." NBC-LA also reported that Special Olympics officials have been in contact with Gusmari's family in Albania.
Police ask anyone with information on Gusmari call 1-877-ASK-LAPD. The LAPD is also posting updates on the search on its Twitter feed here.
-- The Associated Press contributed to this report