Lang, Packers offensive linemen forced to toughen up early on this season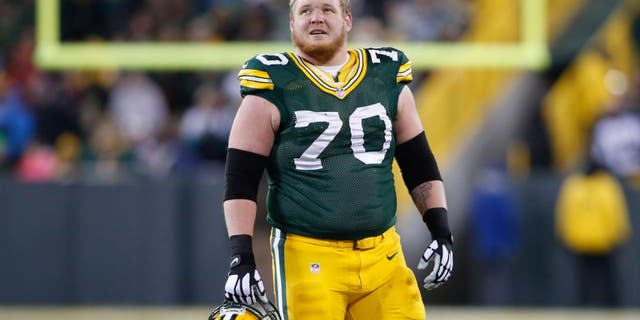 NEWYou can now listen to Fox News articles!
GREEN BAY, Wis. -- T.J. Lang says playing hurt comes naturally for an offensive lineman.
"It's in your DNA to do what you've got to do to go on the field," the Green Bay Packers' veteran right guard said Friday.
So a week after he left the unbeaten Packers' latest victory with an injury, Lang plans to play Sunday when Green Bay hosts the San Diego Chargers before their bye week.
With the Packers (5-0) off the field Friday, Lang said his injured right knee felt fine after practicing with the rest of the team in pads the previous day.
Lang's readiness to jump right in and play with the injury doesn't surprise coach Mike McCarthy. He said his current starting five on the offensive line has been the best during his 10-year tenure, shrugging off aches and pains on an almost weekly basis.
"Your linemen, that's the `big brother' program," McCarthy said. "Just the fact that these guys line up and not only play every week, (it's) the way they practice."
Lang's willingness to play Sunday, though he'll do so wearing a protective brace over the bad knee, comes after veteran right tackle Bryan Bulaga made a swift return to the lineup. Bulaga suffered a significant injury to his previously reconstructed left knee in practice after the Packers' season opener Sept. 13.
In turn, Bulaga missed just three games before making the start in the win over the St. Louis Rams last Sunday.
Last season in the team's run to the NFC title game, Green Bay's offensive line of Bulaga, Lang, left guard Josh Sitton, left tackle David Bakhtiari and then-rookie center Corey Linsley combined for only one missed game. That came after Bulaga reinjured his surgically repaired left knee in the season opener.
"It's no secret, the lines that work together every day and play each and every week, the best lines in football are the ones that play every week together," McCarthy said. "Our guys are very conscientious of that. They don't like missing practice time, let alone missing games."
Sitton refused to take time off despite having an injured toe most of last season.
"I think a lot of pride goes into it," Lang said. "We work our butts off to go out there and be successful on Sunday. We hold each other accountable. It's something that offensive linemen, you don't really talk about it, but it's in everybody's blood."
Bakhtiari was sidelined the last three weeks of the preseason this summer with a knee injury but came ready to play when the season started. Lang noted how Sitton, a two-time Pro Bowl selection, still is hurting with his foot.
"When you watch those guys go out there and play through it, obviously it makes the next guy want to do the same," Lang said "It's just our mold."
Notes: WR Davante Adams, who has missed the last two games with a nagging ankle injury, isn't sure he will be ready to play Sunday despite being able to practice this week on a limited basis. "At the very least, I'll be set to go after the bye," said Adams, who is questionable. S Morgan Burnett (calf), who has missed the last three games, also is questionable. NT B.J. Raji (groin) and LB Nick Perry (shoulder/hand) are doubtful. . DE Datone Jones rejoined the team after being away Thursday for the birth of his first child, daughter Laila. She is named after Laila Ali, the daughter of boxing legend Muhammad Ali. "I always say if I didn't play professional football I'd be a boxer, probably heavyweight champ right now," Jones said with a laugh.