Lane Kiffin sweating over challenge of facing Clemson defense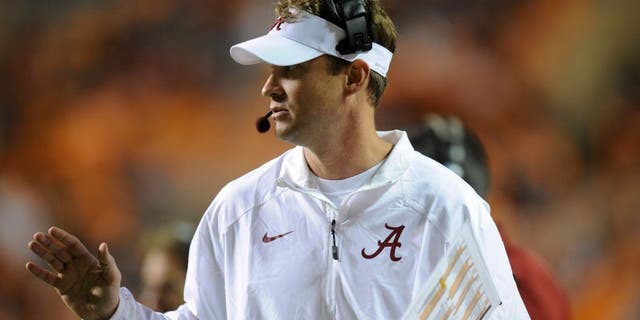 Clemson's defense should be able to provide Alabama with a very stiff challenge in the National Championship Game on Jan. 11.
Statistically speaking, the Tigers rank No. 6 nationally in total defense -- allowing opponents an impressive 301.6 yards per game.
It's something Alabama offensive coordinator Lane Kiffin isn't taking lightly in preparation for the contest.
Rocking a sweat-soaked sweatshirt during Wednesday's press conference, Kiffin addressed the Tigers' defense in a very complimentary manner.
"Clemson is a very athletic defense that can run to the ball, and cause you a lot of issues," said Kiffin. "Very long, looks like a lot of big-time players, NFL-caliber-type players. We'll have our hands full in this matchup. They're very well coached."
A key matchup in this contest will be Alabama's explosive receiver Calvin Ridley going up against Clemson's star corner Mackensie Alexander. The Tigers often utilize a man-to-man look on the perimeter -- which could signal Alabama quarterback Jake Coker testing the Tigers vertically in the passing game.
"The [Clemson] secondary is able to make a lot of plays on the ball," said Kiffin. "Very skilled players. Very long, especially (Alexander). They get up in your face with press coverage."
While Alabama has demonstrated the propensity to throw the football with good effectiveness in recent weeks, it wouldn't be a shock to see Kiffin opt for a run-heavy scheme revolving around Heisman Trophy winner Derrick Henry.
Not only is Henry a fantastic player, but this ball-control style of play could ultimately keep Clemson's explosive and quick-hitting offense off of the field.