Lando Vannata: Tony Ferguson is my shortcut to the top 3 at lightweight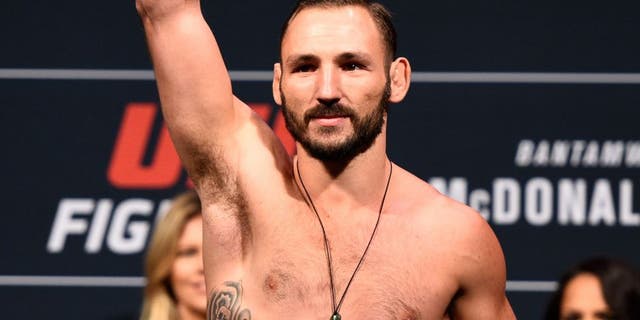 NEWYou can now listen to Fox News articles!
Lando Vannata always know he'd end up in the UFC, he just didn't expect it to happen on two week's notice.
Vannata -- a top prospect out of the Jackson-Winkeljohn gym in New Mexico -- had long been banging on the door to get an opportunity in the UFC when the call came to offer him a co-main event bout against Tony Ferguson in South Dakota.
An injury forced Ferguson's original opponent Michael Chiesa out of the fight and the UFC was searching for a replacement to face the No. 3 ranked heavyweight with only a matter of days to go until the bout.
When Vannata got the call, he didn't ask questions -- he simply said yes.
"I don't know all the details, I just know I got done with practice one day and my manager was trying to get a hold of me. I called him back and he said 'do you want to fight Tony Ferguson in two weeks?' and I said yes, for sure. Let's do it," Vannata told FOX Sports.
"No hesitation. Not at all."
As daunting a task as it might seem for anybody to fight Ferguson on two weeks notice, Vannata actually sees this opportunity as a chance to cut the line in the most stacked division in the UFC.
Instead of looking at this as a way into the UFC and just hoping to put on a good show, Vannata prefers to see Ferguson as his ticket to the top of the division because with a win on Wednesday night, he upsets the natural order at lightweight and injects himself into title conversations on his first day in the promotion.
I'm extremely excited. I feel like I'm about to cut to the front of the biggest line in the world. It's the deepest division and I get to take out the No. 3 guy right out of the gate. -- Lando Vannata
"I have nothing to lose coming into this fight," Vannata said. "If I win, I jump right to the front of the line with Khabib (Nurmagomedov) and Rafael dos Anjos. If I lose and still put on a good show, I'm still top 15 maybe, who knows. It's a win-win situation."
Of course, Vannata has heard all about the infamous Octagon jitters that have rattled fighters with more experience than him on a first trip to the UFC.
What Vannata believes will get him past those initial nerves is the training he does on a daily basis while working alongside fighters such as Donald "Cowboy" Cerrone, Carlos Condit and interim light heavyweight champion Jon Jones.
Vannata is already training with the best fighters in the world and he knows Ferguson can't be any tougher than any of his teammates, so what is there to be nervous about?
"I train with "Cowboy" on a pretty regular basis. I'm training with him almost every time I'm in the gym and he's in the gym. In my opinion and in many people's opinions, the gym version of "Cowboy" and the version of "Cowboy" we saw fight (against Patrick Cote), he's the best lightweight in the world, in my opinion. I'm also training with guys like Anthony Pettis, Cub Swanson, and Carlos Condit on a daily basis," Vannata said.
"I'm ready. I've got so much confidence."
Once he got booked for the fight in Sioux Falls, Vannata and his coaches started doing research on Ferguson to get ready for battle. Vannata admits he hadn't seen much of Ferguson before being scheduled to fight him because outside of watching his teammates fight, he doesn't actually watch much MMA in his free time.
Since inking his deal with the UFC, Vannata has done a lot of research on Ferguson and watched all his recent performance and he knows there's one thing that separates him from Edson Barboza, Josh Thomson or any of the other seven lightweights he's beaten during his current win streak.
Vannata knows that is what will separate him from all of Ferguson's past opponents when they meet in the Octagon Wednesday night.
"I have what everybody else that fought him didn't have -- I don't break," Vannata said. "Everybody else that fought him has broken and they broke quick.
"We're ready to shock the world. July 13."
UFC Fight Night: McDonald vs. Lineker airs live on FS1 with the main card kicking off at 9 p.m. ET on Wednesday night.