LaMarcus Aldridge comes up huge in Spurs' Game 3 win over Rockets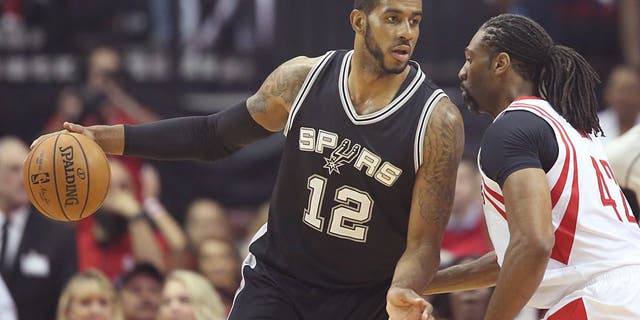 With Tony Parker out for the remainder of the postseason, the San Antonio Spurs needed someone to step up and help Kawhi Leonard.
They got their answer on Friday night from the most-maligned member of the roster: LaMarcus Aldridge. The Spurs big man dominated on both ends of the court, finishing with 26 points, seven rebounds, two assists and four blocks as San Antonio stole Game 3 from the Rockets in Houston.
The 103-92road win gives the Spurs a 2-1 series lead and home-court advantage in the series once more.Game 4 is Sunday at 9:00 p.m.ET in Houston.
Leonard added 26 points, 10 rebounds and seven assists, while Pau Gasol totaled 12 points and nine rebounds. Rookie Dejounte Murray, who started in Parker's absence, had two points on 1-for-5 shooting, two rebounds, and no assists in 14 minutes; reserve point guard Patty Mills gave the Spurs 15points, five rebounds, two assists and two steals in 30 minutes off the bench.
Although San Antonio surely misses their veteran point guard, this team did succeedthroughout this season with minimal contributions from Parker. They might be just fine without him.
Houston's James Harden led all scorers with 43points but had just fiveassists. The MVP candidate seemed to struggle as the Spursdictated the pace of the game, staying big for longer stretches than in a Game 2 win driven largely by Gregg Popovich's willingness to go small. Popovich made another counter-adjustment in Game 3 by letting Leonard loose on Harden's teammates, rather than having San Antonio's franchiseplayer guard Harden.
The story of the night, though, was Aldridge. Heplayed with a much-needed sense of urgency on Friday, making quick decisions that kept the Spurs clicking on both ends of the court. His rim protection enabled Leonard's roaming defense, and his chemistry with Pau Gasol in the paint helped San Antonio dominate the Rockets.
If this is the Aldridge we're going to see the rest of the playoffs, the Spurs will be a force and Houston might be in trouble.