Lakers reportedly oppose placement of ads on NBA jerseys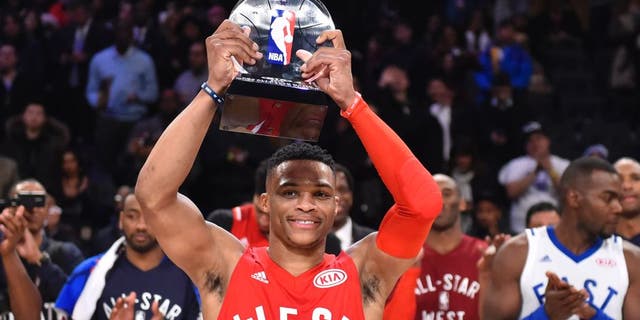 The placement of ads on NBA jerseys has been a long time coming, and it's going to happen eventually. The league has experimented with it during All-Star weekend events like the dunk contest since 2009, and the ads made it onto the jerseys during Sunday's main event this season for the very first time.
It seems like an inevitability, though it is something that still needs to be voted on by the league's 30 owners. And the Lakers are reportedly one of the few teams that would like to prevent it from happening.
So, why would the Lakers (or any team) oppose something that the league estimates would bring in an additional $100 million in revenue? It's the division of those dollars that are likely the issue.
Teams would sell the ad space individually, and the Lakers, even in the midst of a third consecutive catastrophic season, still ranked fourth in the league in team merchandise sales when the latest round of numbers was released.
The league is initially proposing that half the money would be kept by the team, and the other half would be placed into a revenue-sharing pool -- one that would go into the Basketball Related Income category which affects the salary cap and is divided up between the players and all 30 teams.
The Lakers, existing in a large market while also being one of the league's most storied franchises, likely feel like they deserve a bigger piece of the action. But no matter how the finances ultimately shake out, ads on jerseys are definitely on the way, and will almost certainly be in place by the time the 2017-18 season begins.