Lagat goes after Olympic spot in 5,000 meters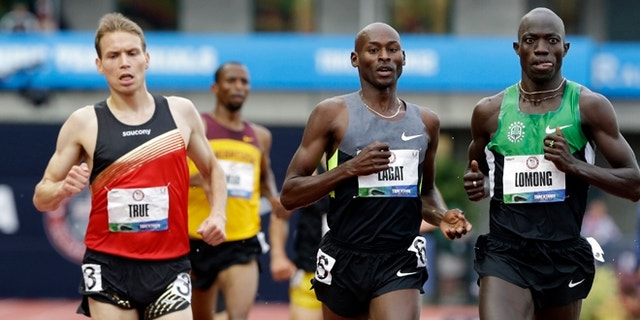 EUGENE, Ore. – As the story goes, Bernard Lagat dashed 1 1/2 miles to and from school each day as a boy growing up in Kenya.
Not uphill both ways, but still enough to put him on the path to becoming a two-time Olympic medal winner for his native country and then rewriting this nation's record book once he arrived in America.
Lagat will be 38 in December and shows no signs of slowing down. His legs remain young and fresh enough to keep up with the best in the U.S. and the elite in the world.
His personality and performances have done so much to revive distance running in America and usher in a new wave of young talents such as Galen Rupp and Lopez Lomong. Lagat, Rupp and Lomong all easily advanced in the 5,000 meters on Monday night at Olympic track trials.
One day, Lagat will even pass the torch off to them, let those runners influence the next generation.
That is, when he's ready to step aside. And right now, that appears a ways off.
"It comes from here, the heart," Lagat said. "I seized the opportunity and worked on that opportunity. I run hard and train hard."
The fastest American 5,000-meter runner of all time did slow down long enough for a stroll down memory lane.
He knows he's in the twilight of his career and the London Games may be his last shot at an elusive gold medal. As a runner for Kenya, Lagat won bronze in the 1,500 at the 2000 Sydney Games and silver in the same event four years later.
Lagat was one of the favorites going into Beijing, but he suffered an Achilles tendon injury leading up to the Olympics and was off his game. He finished ninth in the 5,000 as his customary kick just wasn't there.
If he doesn't win gold in his career, he's made peace with that.
If he hadn't inspired the next group of runners, now that would've bothered him.
Lagat receives letters all the time from parents saying he was the motivation for their kid to run (maybe even to school, like he used to do). He cherishes those messages.
"That I helped a child somewhere to be a runner or better in whatever they do? That's all I want to be remembered for," said Lagat, who trains in Tucson, Ariz. "That I made a change in someone's life. That I work hard and there were no shortcuts.
"If I get an Olympic gold or not, I will feel like my journey in this small career that we have was successful because I define success as somebody that enjoyed what they were doing, did everything the right way, motivated others and gave the kids the belief that they can actually be like me."
To be like him may be asking quite a bit. It's not easy following in his footsteps.
Rupp may have the best chance. The former Oregon Duck standout won the 10,000 at trials last week and now will chase after Lagat in the 5,000. Rupp is the future, especially once Lagat leaves the stage.
However, picking the next big thing in middle- and long-distance events is a tricky endeavor.
Not that long ago, Alan Webb was the can't-miss prodigy.
As a high school standout in 2001, Webb thrilled the Hayward Field crowd by turning in a time of 3 minutes, 53.43 seconds in the Bowerman Mile. With that performance, Webb surpassed the national high school record set by Jim Ryun more than three decades earlier.
That moment seems like such a long time ago for Webb. He's now 29 and has a baby on the way. Webb didn't advance Monday in the 5,000, finishing 11th in his heat, but also is declared in the 1,500.
"It's been tough. I've had ups and downs and stuff," Webb said at the Prefontaine Classic three weeks ago. "Just one of those things. I still love the sport want to keep going at it. It's about my own expectations. I know I can do well."
Especially here, on this track that holds so many good memories for Webb.
And in the grueling 5,000, it's anybody's race.
The form charts are predicting a win by Lagat in the final Thursday, with Rupp and Lomong also making the team. But that means very little once they're all out on the track and the pain starts to creep in as the pace quickens.
Lagat has typically found a way to block out the pain. That's why his kick with the finish line in sight is so legendary.
"You tell yourself, `I think I'm going to get this,"' Lagat said. "I feel so light, like a feather. With 300 meters to go or at the bend, you're tempted to go fast. But you have to hold, wait and then go all out at the end."
That approach has led to a resume filled with medals and titles.
A former NCAA champion at Washington State, Lagat became eligible to run for the U.S. just in time for the 2007 world championships. He had quite a showing, too, becoming the first American to win the 1,500 at worlds.
He's also a four-time national outdoor champion in the 5,000 and holds seven different American records.
Asked how he stays so mentally sharp even after so many years, Lagat grins.
"What makes me want to compete all the time is the feeling when you win a race or when fans are shouting and screaming," he said. "I don't know what I'll do after this. I will miss it so much that my life won't be normal.
"That challenge of winning and the good feeling that you get out of winning motivates me."