'Lady in Black' not kind to Danica Patrick, ending her night early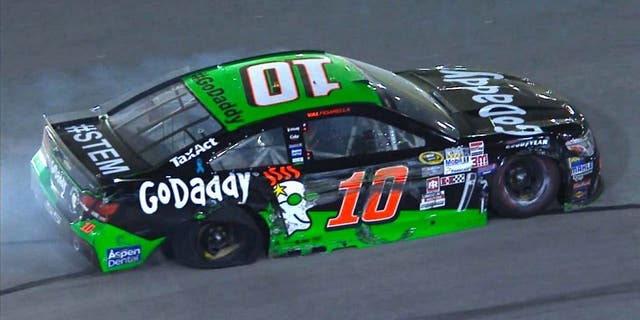 Heading into Sunday's Bojangles' Southern 500 at Darlington Raceway, Stewart-Haas Racing's Danica Patrick was optimistic but had her work cut out for her.
Wearing a black firesuit for Sunday's race, Patrick tweeted out a picture of herself saying she was the lady in black for the night. Unfortunately, the true 'Lady in Black' had the last laugh as Patrick hit the wall hard to bring out the ninth caution of the night on Lap 188 of 367.
With heavy right-side damage to the No. 10 SHR Chevrolet Patrick brought the car to the attention of her crew on pit road, but they were forced to push it behind the wall with suspension damage.
"Everything seemed pretty in control out there," said Patrick, standing in the garage. "I was getting a pretty decent rhythm. It snapped pretty hard in (Turn) 4. I don't know."
As her team worked feverishly to make repairs, Patrick said she may have had a tire going down before hitting the wall, but could not say for certain.
"It's definitely possible that it just got loose," she said. "For a few laps before that I felt like I could pull the yaw pretty easily through (Turns) 3 and 4. The one thing about Darlington is that you definitely run a lot of lines around here. I felt better lower than higher, so at times I was a lane or two below the dotted line. Debris is just something that happens here because you're using so much track. I'm not 100 percent sure (of a flat tire). I could have just got loose, but it could have been a cut tire, too. Just a bummer."
Patrick took two tires in the early going of Sunday night's race, falling a lap down at one point. The team was able to fight back onto the lead lap, but it all came to an end with her contact with the wall just past halfway.
"It's unfortunate," she said. "I love this car and this suit. The 'Lady in Black' thing was a cool thing, but unfortunately it's come to an end."
While Patrick's night did not go as planned, neither did that of boyfriend and fellow driver Ricky Stenhouse Jr.
Running a throwback paint scheme honoring NASCAR Hall of Fame member David Pearson, Stenhouse was running inside the top 20 when his No. 17 Roush Fenway Racing Ford broke loose off Turn 4 on Lap 197.
Racing inside of Clint Bowyer off the corner, Stenhouse's car came around and slid nose first into the inside SAFER barrier. The incident brought out the 10th caution of the night and sent Stenhouse behind the wall.
"It just snapped around," he said. "I hadn't been that loose early in a run and it just jumped out from under us there. We were slowly making it better and clawing our way toward mid-pack or a little better than mid-pack but it just got out from under us there."