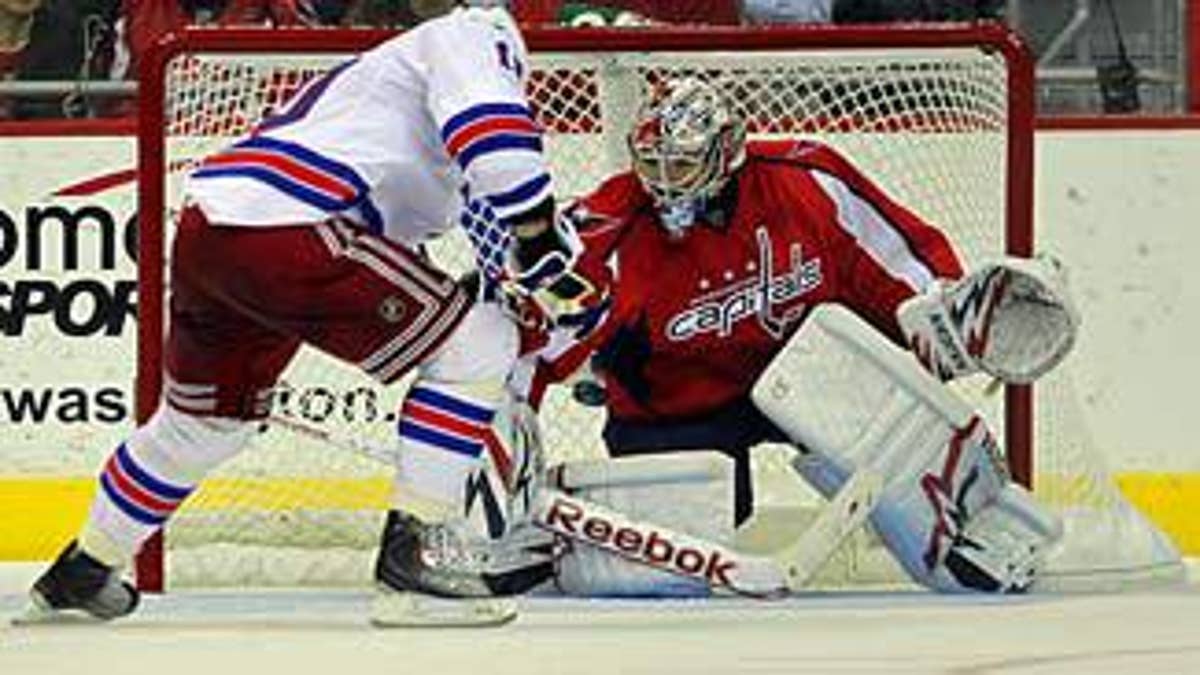 WASHINGTON -- The first 20 seconds of Game 5 was a microcosm of the entire Eastern Conference Quarterfinal series for the New York Rangers.
Sean Avery, Brian Boyle and Brandon Prust -- by the far the most consistent line for the New York Rangers during the series -- applied pressure to the Capitals around the net of goaltender Michal Neuvirth. It looked like the Rangers were going to get a monumental first goal after Neuvirth fell to the ice, but Boyle's wraparound try was denied.
The Capitals controlled the next 10 minutes of the game, getting a goal from Mike Green at 5:59 and using that momentum to cruise to a 3-1 victory at Verizon Center that wrapped the series.
Afterward, Boyle lamented how close the Rangers came to getting the perfect start.
"Prust and Aves, we talked about how we need to score," Boyle said. "We played a lot of minutes this series and we need to score (They had just 2 assists combined). It's great to get that get momentum and it's great to put them under pressure. But if we score there, like we had an opportunity to, it's…who knows? Different things happen."
Instead, it was the same story for the Rangers -- not enough scoring chances and a fourth loss in five games.
The Rangers didn't score a goal during the first period the entire series. They could only must 8 goals in 5 games and an additional 40 minutes, 31 seconds of overtime. Neuvirth was exceptional throughout the series, but he didn't face a bevy of quality chances Rangers goaltender Henrik Lundqvist encountered.
"I thought as the game went on, we still struggled to create scoring chances," Rangers coach John Tortorella said. "I don't think our team's fully built yet. We're not there yet, to be honest with you, as far as talent."
Marian Gaborik, who scored 42 goals last season, had just 1 in 5 games against the Capitals. Brandon Dubinsky led the team with 2 goals, and he and Wojtek Wolski tied for the lead in points with just 3.
It was the same story on the power play. The Rangers went 0-for-2 with the man-advantage Saturday and 1-for-20 for the series. They generated five shots on their two chances and looked as sharp as they had all series.
They had nothing to show for it, however, and it was one of the major reasons they couldn't push the series further.
"They've got a good PK, but they didn't win enough battles on the power play," Dubinsky said. "As far as I'm concerned, that's the difference in the series."
"That was a big part of it," said defenseman Marc Staal, who was a minus-3 for the series. "You need your power play to produce. We can talk about it as much as we want right now, but that's something we can fix."
The lack of offense spoiled what was a sensational effort from Lundqvist, who made big save after big save during the series and never once allowed a soft goal. He finished with a 2.25 goals-against average and .917 save percentage and gave the Rangers a chance to win every game.
His frustration with the series was palpable as he faced the media at his locker.
"It's just one goal in the second and it felt like for sure we could take over and have more confidence," Lundqvist said. "But again, we missed on a few opportunities in the series to get a couple wins and it would've been a different result. But, we didn't do it."
Saturday's game marked Lundqvist's 31st consecutive start, something that became a necessity when backup Martin Biron suffered what turned out to be a season-ending broken collarbone. Yet at no point during the Rangers' push for the playoffs and in this series did Lundqvist show signs of wearing down, and he said he felt good physically following Saturday's loss.
"I felt good," Lundqvist said. "I'm happy with the way I played. I felt like mentally and physically I was where I should be, but when you come up short like we did in a couples games where we had an opportunity to win, it's hard to feel satisfied. I'm just really disappointed right now. I really felt we had a chance here. Obviously last game, that was tough."
Lundqvist was speaking of the double-overtime loss in Game 4 that saw the Rangers squander a 3-0 lead in the third period and a chance to tie the series at 2-2. The Rangers had two days to regroup from that devastating defeat, but the pain clearly still lingered from that heartbreaker.
"Those are tough to come back from," Boyle said.
Dubinsky, however, attributed to the first 10 minutes of the game to the Caps bringing their best and nothing more.
"They come hard in their building and they just had us on our heels," Dubinsky said. "I think we were ready to play, but they just kept coming and coming and coming."
It may take the rest of the weekend and longer for the Rangers to reflect on their season and see it as a positive one, but there are some silver linings, especially the notion that for the first time in a long time, they are a young team that can see better days ahead.
"Everybody in here feels the same way," Boyle said. "We all wish we could have done more. I'm proud to be part of a team that's going to give everything we have for each other."
"We just keep on going and try to get better," Tortorella said. "There are areas with our team where we need to get better. So, we continue to build."
Follow Dave Lozo on Twitter: @DaveLozo