LA Dodgers' Acquisitions Position them Toward Postseason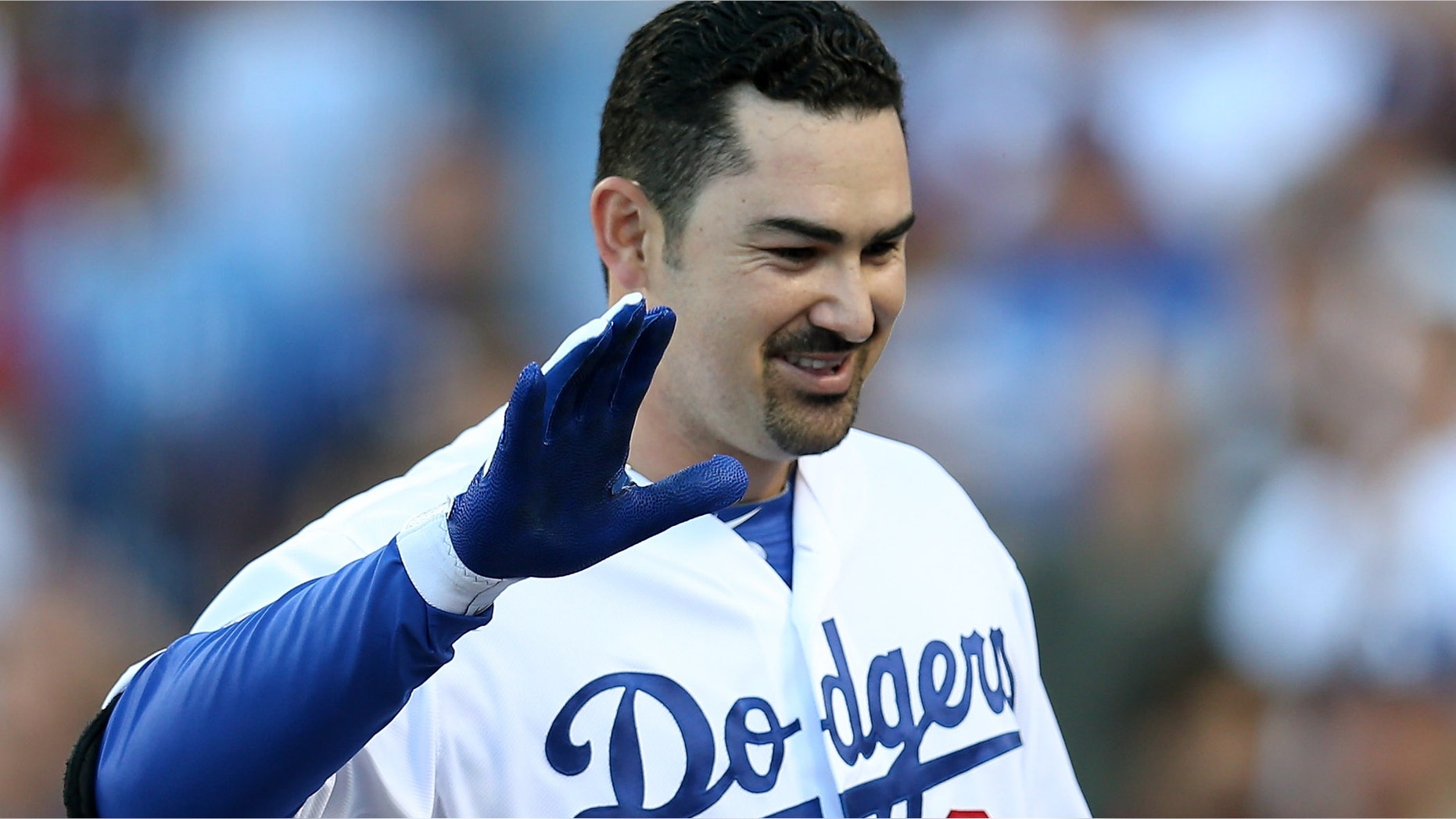 Magic Johnson couldn't have said it any better prior last night's game as the Los Angeles Dodgers revealed to their fans their latest acquisitions headlined by Adrian Gonzalez as they look towards their first World Series title since 1988: "We want to win now."
The five-time NBA champion with the Lakers knows what it takes to win it all and the Dodgers have positioned themselves well as the favorites to represent the National League once the umpire says "play ball' in the Fall Classic.
As I sat in the Boston Red Sox press box Wednesday night, I thought the BoSox where just trying to get a feel for Gonzalez after placing him on waiver. I knew the team claiming him would have to blow them away with an offer.
In the end, the Dodgers did.
Despite the presence of All-Star Matt Kemp, along with Andre Ethier and a reincarnated Hanley Ramirez, it just wasn't going to be enough for the Dodgers -- especially after their eternal rivals, the San Francisco Giants, brought out the brooms and swept them earlier this week.
The addition of 'El Titan' couldn't have come at a better time. It brings balance to a lineup that lit up the Dodgers Stadium scoreboard in a 9-2 victory over the Miami Marlins.
Placing Gonzalez, a Gold Glove winning first baseman who grew up in Southern California, in the lineup to follow fellow All-Star Matt Kemp and before Hanley Ramirez and Andre Ethier will instantly cause fits for pitching staffs facing them over the last five weeks of the season.
Claiming Gonzalez, who is owed $127 million over the next six years, could have just been a move to block out the Giants from putting a claim after losing NL hits leader Melky Cabrera, who was banished for 50 games after testing positive for the use of testosterone.
In a sense the Dodgers have not only fixed a problem in their lineup but perhaps have positioned themselves as the favorites to beat out whomever lies in front of them.
Gonzalez, who was allegedly behind a text message to ownership requesting the removal of manager Red Sox manager Bobby Valentine, was underperforming in Boston and it seemed like the she said-he said drama that was developing in the media and spread through the clubhouse was taking a toll on him mentally, despite rebounding from a sluggish start.
Seeing and speaking to him in Baltimore and then seeing him in the visitors clubhouse at Yankee Stadium two weeks ago gave me the sense that he needed out.
But it's not all about Gonzalez either.
Critics are bashing the Dodgers for taking on $260 million that includes the services of starting pitcher Josh Beckett and injured outfielder Carl Crawford, who won't be ready until next year.
But in this case adding Beckett, who I think is not done yet, is a big move on Los Angeles' part.
Great pitching stops great hitting if the team you're facing in the postseason is not an offensive juggernaut. And that's where Beckett, a 20-game winner when Boston won it all in 2007, comes in to play.
Despite battling numerous ailments in the past, Beckett is capable of coming up huge and it's what the Dodgers will need down the stretch on a pitching staff that's been pieced together after All-Star Clayton Kershaw.
A lot of folks out there think Beckett is done, but they could be in for a surprise.
Everyone thought Ramirez, who the Red Sox traded for Beckett prior to 2006 season, was on he decline after Miami showed him the door. Look at his numbers and you'll know those critics are wrong.
Just like Ramirez had over-extended his welcome in South Beach, Beckett's welcome in Boston was done after the team's historic collapse last September and rumors that he was involved in the chicken-eating, beer-drinking alleged scandal during games.
The guy on paper is a major improvement over what follows Kershaw. Ironing a few things here and there are going to get the 32-year-old back on track. He has big-game pedigree written all over him. After all, he did go into Yankee Stadium as a 23-year-old and help the Marlins win it on enemy turf.
Change can be a good thing -- especially for a franchise that was run down to the ground by former owner Frank McCourt and overseen by MLB while both sides found a solution to the problem the one of baseball's most storied franchises was dealing with.
If the playoffs started today, the Dodgers wouldn't even have a chance at the postseason. Instead they've geared themselves for a run in which the NL West is the only thing in their sight.
Bringing aboard Gonzalez and Beckett are clearly the last steps toward a parade in Downtown Los Angeles come October.