Kyrie Irving has quietly owned the 2016 NBA Playoffs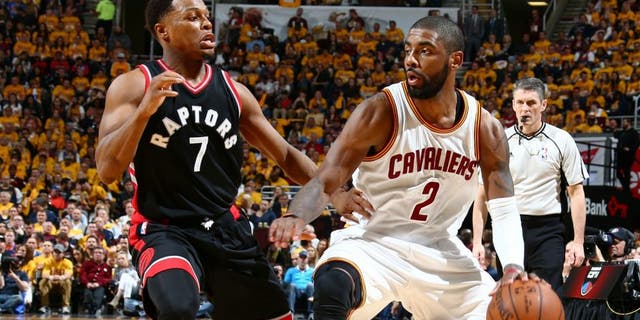 NEWYou can now listen to Fox News articles!
A few years ago, when Steph Curry's ankles rendered his now-brilliant contract a precarious roll of the dice, Kyrie Irving was the frontrunner to succeed Chris Paul as the best point guard alive.
From day one, his fancy dribbling wowed audiences and deceived defenders. His steady balance and constant aggression kept opponents on their heels. His acrobatic finishing ability and lethal moves in hand-to-hand combat made him one of the NBA's most prodigious thrills.
Fast forward from his All-Star Game MVP in 2014 to just about any point during this past regular season, and it's easy to see why so many forgot just how great this guy was destined to be. A broken knee cap suffered in Game 1 of last year's NBA Finals prevented Irving from working on his game over the summer; he didn't make his debut until late December.
Instead of smooth sailing through a second season beside LeBron James and Kevin Love, Irving spent the year awkwardly doggy paddling upstream. His outside shot was relatively repugnant, and his tendency to, you know, never share the ball rankled teammates and stood out as a convenient contrast between Cleveland's selfish tendencies and Golden State's copacetic basketball philosophy.
He tallied more than nine assists just once, and averaged fewer potential assists than Blake Griffin, Monta Ellis, Kevin Durant, Jimmy Butler and Tyreke Evans.
But nine games into the postseason, Irving's ridiculously hot shooting has lifted him onto a higher plain. He's peaking at the right time, and it's fair to stack his body of work over these last few weeks beside guys like Russell Westbrook, Klay Thompson, LeBron and Durant and not look silly.
Irving is averaging an absurdly efficient 24.7 points (highest on the team) and 5.4 assists per game. His 26.8 PER is fifth among all playoff participants, and he's second only to Westbrook in Win Shares and second only to Paul George in Win Shares per 48 minutes.
After shooting 32.2 percent from behind the three-point line during the regular season, Irving has morphed into a flame thrower beyond the arc in the games that matter most, against defenses that're increasingly fierce. He's shooting 52.7 percent on 6.1 attempts per game (48.8 percent above the break). For just about every player who ever lived, including Curry, that's an unsustainable combination of volume and accuracy.
Irving's touch is dynamite from just about everywhere else, too. His pull-up mid-range jumper is effective whether or not there's a hand in his face, and the way he takes games over and lessens the burden on James and Love can't be overlooked.
Criticizing Irving's role through the lens in which we judge "traditional" point guards is trite. He's the tip of Cleveland's spear, not a set-up man. And, lest we forget, learning to play beside an all-time great like James isn't easy for a co-pilot, let alone one who just turned 24. It took Dwyane Wade and Chris Bosh over a year before they figured out how to merge their games with his, and they were already in the back half of their careers that first year in Miami.
After Game 1, in which he scored 27 points on 17 shots in 30 minutes, here's what Irving had to say about integrating his strengths with LeBron's (via ESPN):
"I didn't necessarily know how I fit in with a great player like that, and all I wanted to do is just earn his respect as well as my teammates. So it's just the fine nuances that make a good player great that I'm just figuring out by being around him every day."
The challenge of molding his game to James' and then having to do it all over again with a rehab thrown in showed a patience in Irving that he didn't even know he had.
Yes, he loves to shoot and doesn't go out of his way to create for others, but that's Irving's role within the context of Cleveland's roster, and shouldn't be viewed as an indictment of his jaw-dropping talent. He isn't Curry, an off-ball samurai who makes all five members of the defense work to stop him, and him alone, on every possession, and that's okay. Irving's job is to score, and he's arguably done it better than anyone in these playoffs.
He's highly efficient in various situations, whether it's charging ahead in transition or bouncing off a high screen and attacking in the pick-and-roll. Irving has yet to turn the ball over a single time in isolation, too; he's trustworthy even in his most predictable moments.
It's more than fair to point out how Cleveland's assist rate is never better than when Irving is on the bench. (The Cavaliers assist 67.9 percent of their baskets when he sits and 58.0 percent when he's on the floor.) But, just the same, their offense is a razor blade, whether LeBron is on the floor or not, when Irving's out there. (Irving's shooting splits stumble when James isn't by his side, but his assist rate skyrockets along with his usage percentage.)
Irving isn't the best or most important player on his own team, but only a fool would hold that against him. He's indispensable, and has re-established his otherworldly ability at just the right time. If you're looking for a reason why the Cavaliers can win it all, one of the best is Irving's irrepressible ability to put the ball in the basket.