Kyle Shanahan reveals the one play he regrets most from the Falcons Super Bowl loss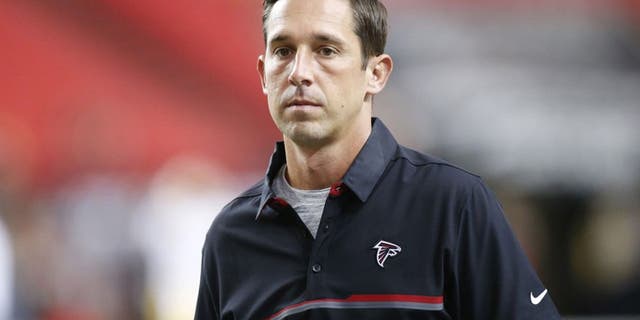 Its been nearly four months since the Atlanta Falcons blew the biggest lead in Super Bowl history, but fans probably wont stop talking about the epic collapse for years. It was completely baffling and hard to believe, knowing just how dominant the Falcons had been for nearly three quarters of the game.
Coach Dan Quinn and quarterback Matt Ryan have spoken at length about the loss Quinn said hes not over it, while Ryan is trying to get past it by watching the game repeatedly butformer offensive coordinator Kyle Shanahan has somewhat dodged the topic since joining the 49ers. However, on Friday, he was asked about any regrets he has nearly four months later.
Shanahan revealed the one play hed like to take back.
Yeah, theres no doubt. The second-and-10 that we got sacked on, Shanahan said on the Rich Eisen Show. I wish I had dialed up something differently. And then the next play, we called an option to [Mohamed] Sanu, we got right back in field goal range, but we had a holding call on the play and it knocked us out some more, and an incompletion on the next one.
The former Falcons offensive coordinator admits that the second-and-10 call in the fourth quarter wasnt his only regret, but it is the play he keeps coming back to.
Its not just that. I go through every single play in the game, but when it comes down to it, the big one was the sack that we had on second-and-10.
Up by eight points with under 5 minutes remaining and the ball inside the Patriots 30-yard line, all the Falcons needed to do was run the ball, use some clock and kick a field goal. It would have made it a two-possession game with very little time left, a task too tall for even Tom Brady.
Instead, Shanahan called a pass play on second down rather than milking the clock a decision hell probably always regret. He said he thinks about the game a lot and there arent many days that go by where he doesnt think about it, particularly this specific play call.
Shanahan gets to hit the reset button, so to speak, in San Francisco now as the teams head coach, but that Super Bowl loss is something hell always carry with him.