Kyle Phillips a popular choice to be Tennessee's latest star freshman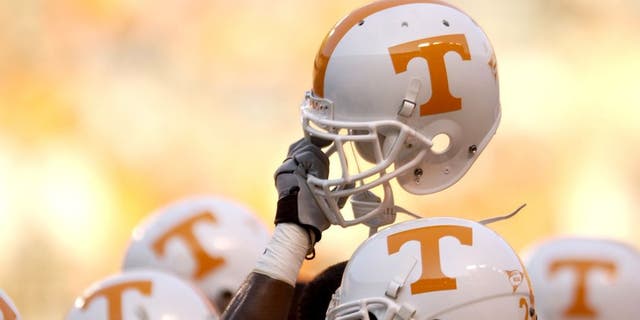 Tennessee's return to relevance in the SEC has been fueled by the contributions of star freshmen brought in by Butch Jones and staff their first two seasons on Rocky Top. Now armed with their highest ranked recruiting class under Jones, Tennessee fans are anxious to know which newcomer is most likely to shine in their debut season.
One likely candidate is defensive end Kyle Phillips. The five-star recruit was the first freshman to have his helmet stripe removed during camp and has already made an impression on his coach.
"Well, you never really know what to expect until they get here," Jones said following Thursday's practice. "From day one, he came in, he's grasped the system. He's worked very extensively in film study and video study. [I've] been very, very encouraged by Kyle, and obviously he's one of many freshmen that will play this year."
Phillips should see plenty of one-on-one matchups with opposing offensive lines focused on sophomore Derek Barnett, not to mention 344-pound freshman defensive tackle Kahlil McKenzie clogging up the middle of blocking schemes.
It's not just the opportunity that makes Phillips a likely standout performer, it's his unique combination of size, speed and strength for a player entering their first year in college.
"Well first of all, he has a great skill set in terms of length," Jones said. "He's very long, he has a very, very large wingspan, so he bends exceptionally well, and he can flat out run. He has a tenacity about himself. He plays with a relentless approach to get to the football. You know, when you look at his size, you look at his frame, you look at his length, and the ability to make himself skinny and small coming off the edge, a burst on his get-off, we're very encouraged and excited about him."
The Nashville, Tenn., native turned down offers from LSU, Ole Miss, Florida State and Ohio State among others to play for his state school. Having the attributes to compete right away will get you on radar of the elite schools, but possessing a work ethic that pushes oneself to be great is what made Phillips truly desired by many of the top football programs in the nation.
"I would say he's about where most of the freshmen are, but he's worked his craft," Jones added. "He took a lot of mental reps in the spring, and that's a tribute to him. Even though he wasn't able to get the physical reps, he was able to gain the mental reps. He sat and he watched, and then again, through his video study."
If Tennessee can add another elite pass rusher to their arsenal this season they may prove to have the best defensive line in the conference, comprised mainly of freshmen and sophomore standouts. Brick by brick indeed.