Kyle Larson drives hard after speeding penalty to finish sixth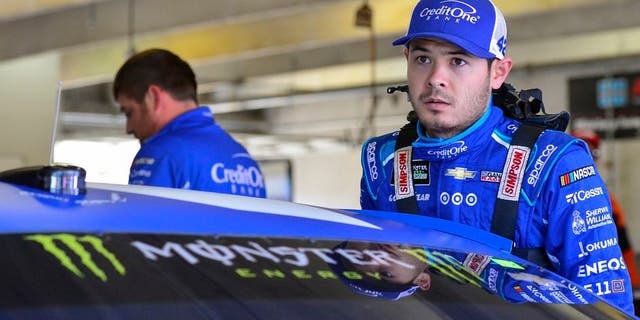 BRISTOL, Tenn. After leading the race-high total of 202 laps in Mondays rain-delayed Food City 500 at Bristol Motor Speedway, it would seem a sixth-place finish might be quite upsetting to Kyle Larson.
But Larson had some positives to hang his day on.
After being penalized for being too fast exiting pit road just prior to a critical restart with only 73 laps remaining, Larson was sent to the tail end of the lead lap. From there, driving all the way back up to sixth and actually he got as high as second at one point in such a short period of time on the .526-mile short track was quite an accomplishment.
Yeah, I got that speeding penalty, Larson said. I was just pushing on pit road and messed up there.
Larson also won Stage 1 of the race and finished seventh in Stage 2. Throw in his sixth-place overall finish and the Monster Energy NASCAR Cup Series points leader has now scored points in 16 of a possible 17 stages this season.
We had a really good car, really good in that first stage and then to start that second stage, and then once the track got rubbered in, I had to search around a lot, Larson said. I couldn't run the bottom as good as the 78 (of Martin Truex Jr.) and the 22 (of Joey Logano), and the 77 (of Erik Jones) was really good down there.
And then late in the race there, once the top got rubbered in, I could get up there really early in a run and go fast, and still not be quite as fast as those guys at the end of the runs. But I was really good the first two-thirds of a run.
The speeding penalty, however, ended up costing him in more ways than just the initial track position.
It forced his No. 42 Chip Ganassi Racing team to take only two tires on a subsequent stop in an attempt to make up for it. And that probably is what caused him to fade from second to sixth over the closing laps after he had surged all the way back to the front to battle for the lead again with Jimmie Johnson, Clint Bowyer and Kevin Harvick, who ultimately finished 1-2-3 in the race.
We had to gamble on two tires, and the balance was OK on two, but I just didn't have the speed or I guess the grip that the 48 (of Johnson) and the 14 (of Bowyer) had to run the bottom, Larson said. I knew I couldn't go down there and get by the 4 (of Harvick), so I was trying to maybe set him up, up top, but it was a lot of fun there.
The three of us were racing hard for the lead for a few laps and had some traffic, so I thought the race was great.The track changed a lot throughout the race and was extremely exciting.
After much trepidation about the track and the VHT adhesive resin that had been applied to promote more grip in the bottom groove, all the drivers, including Larson, seemed in agreement post-race that the action it produced was more than satisfactory.
I don't know what more you could ask out of this place, Larson said. This is the best track we go to, the most exciting place, and I love coming here.
Lesley Ann Miller | Lesley Ann Miller/LAT Images www.latphoto.co.uk