Kyle Busch runs second to Harvick, despite fresher tires at end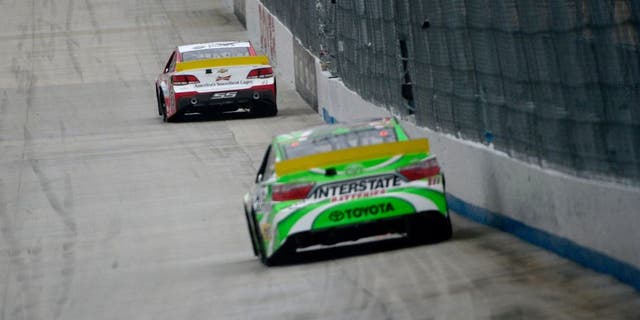 NEWYou can now listen to Fox News articles!
Entering Sunday's AAA 400 at Dover International Speedway outside the top 12 in the Chase standings, Kyle Busch needed a clean and competitive day to keep his championship hopes alive this season.
The driver of the No. 18 Joe Gibbs Racing Toyota did just that. While no one in the field could compete with Stewart-Haas Racing's Kevin Harvick -- who led 355 of the 400 laps en route to the victory -- Busch was able to lead 19 laps and come home second at the end of the day.
By finishing in the runner-up spot and leading laps, Busch climbed to ninth in the Chase standings, but advanced to the Contender Round of the Chase for the Sprint Cup by just one point.
"It was a pretty good race for us," said Busch. "Pretty simple, I guess, I'd say, too. For us and the 18 Interstate Batteries Camry, we had a really good race car, so my guys did a great job preparing a good piece for us, and allowed me to run up front all day. We were the second-best car and we were able to come home second. We finished where I thought we deserved to be."
While Harvick dominated the event, the defending series champion took just two tires on the final stop of the day, while Busch was the first car on four tires. Despite the possible advantage, there was little he could do to catch or pass Harvick.
"For as fast as Kevin was today, I don't know if I could have had eight tires and I would have beat him. Seemed like he had eight tires," he said. "I certainly did think that we'd have a better shot at being able to beat him, but unfortunately I had to restart fifth there. I think (Matt) Kenseth stayed out, and I came off pit road fourth, but instead of being able to restart fourth, I had to restart fifth, and that just kind of held me up a little bit and wasn't able to allow me to get a run around the outside and try to get to Kevin's right side before things kind of got single‑filed out. So that's where we kind of lost our advantage with those four tires."
Harvick's victory also put an end to a four-race streak of JGR wins. With Harvick facing elimination from the Chase if he did not win, Busch said everyone missed a big opportunity Sunday at Dover.
"That was a guy that we wanted to knock out, you know, that's a guy that can win all these races, and you don't want to have to compete against a guy like that," he said. "But you know, that's why they're as good as they are, and they were last year's champion, so they're going to have an opportunity to continue on. We'll see what happens. There's still two more rounds to figure out who's going to make it to Homestead."