Kyle Busch rolls to win in Furious 7 300 XFINITY race at Chicagoland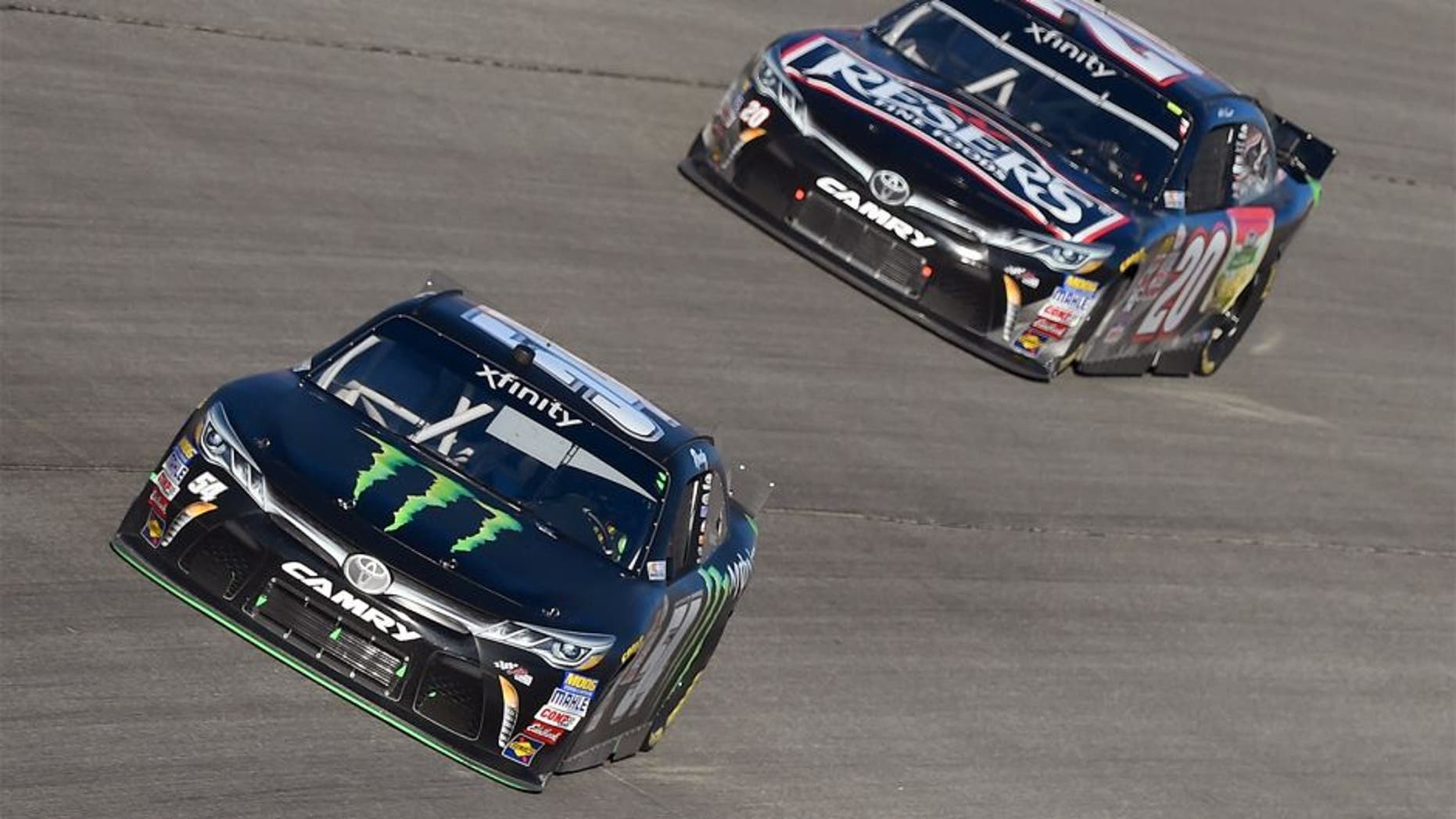 Furious, indeed.
Kyle Busch outdueled Matt Kenseth over an exciting final two laps to win the Furious 7 300 NASCAR XFINITY Series race at Chicagoland Speedway on Saturday night.
It was Busch's fourth win of the season in the series and extended Busch's record-setting total of career victories in the series to 74. It also was the fourth series victory at Chicagoland for Busch in his career.
Kenseth dive-bombed Busch's No. 54 Joe Gibbs Racing Toyota briefly on the next-to-last lap to briefly take the lead just before the white flag flew, only to be passed back almost immediately by his JGR teammate when Kenseth could not make his No. 20 Toyota stick.
"It was tough, man. That was a race. I thought it was a blast to be able to run with Matt like that. I'm glad it was a teammate, you know?," Busch said.
Kenseth finished second. Darrell Wallace Jr. stretched his fuel mileage to finish third and Paul Menard was fourth while Ty Dillon rounded out the top five and moved into second behind Chris Buescher in the series points standings
"Really, the best car didn't win tonight; the best driver did. Kyle just did a better job than I did," Kenseth said. "I had the fastest car and just took too long to try to get to the top (of the track) and make that (pass) work on that last run. So we got beat, and that's a bummer."
Busch and Kenseth combined to lead 186 of the 200 laps. The two then dueled over the closing laps, with Kenseth sliding past Busch for the lead with two laps remaining, only for Busch to snatch the lead right back.
Buescher finished seventh and continues to lead in the XFINITY Series points standings, with Dillon 25 behind. Chase Elliott, who was second in points entering Saturday's race, finished 14th and fell to third in the standings, 28 off the pace being set by Buescher.
But the night obviously belonged to JGR drivers Busch and Kenseth.
It was JGR's seventh win in the last 14 Xfinity Series races, and the organization heads into Sunday's opening round of NASCAR's Chase for the Sprint Cup playoffs with eight wins in the last 11 Cup events.
"Overall these Joe Gibbs Racing cars were tough tonight. I can't say enough about Toyota and TRD (Toyota Racing Development)," Busch said. "... We had a really fast Camry all night long."
All four of JGR's drivers are in the Chase field, including Busch and Kenseth.
Busch's XFINITY car was found to be too low in post-race inspection. However, no penalty is likely to be handed down until Tuesday and it is not NASCAR's policy to take away victories.
The Associated Press contributed to this report.