Kyle Busch nabs NCWTS win at Kansas when Ben Rhodes blows engine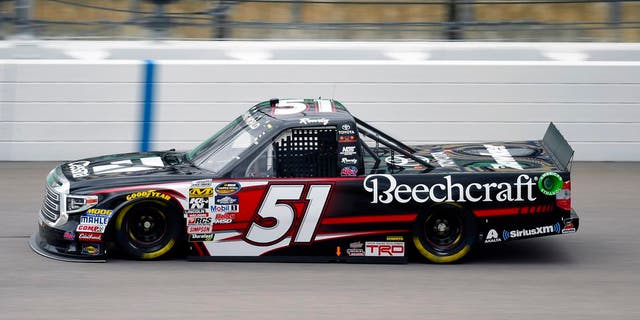 Kyle Busch benefited from Ben Rhodes blowing an engine with eight laps to go to win the Toyota Tundra 250 at Kansas Speedway.
After the two battled back and forth in the final 30 laps, Rhodes cleared the Cup Series veteran and held him off, opening up a comfortable lead.
Then, the unfortunate happened for Rhodes. His No. 27 ThorSport Racing Toyota blew an engine and relinquished the lead back to Busch.
Busch dominated, leading a race-high 91 laps, winning both stages after taking the lead from his Kyle Busch Motorsports driver Christopher Bell early in Stage 1.
The opening stage was filled with cautions as nearly half of the first 40 laps were under the yellow flag.
Wendell Chavous brought out two cautions in the first stage, along with Stewart Friesen and Jordan Anderson who made contact on Lap 16, and Grant Enfinger who spun on Lap 12.
Check out the full race results from the Toyota Tundra 250 by clicking here.