Kyle Busch, JGR eye turnaround from early season woes at Bristol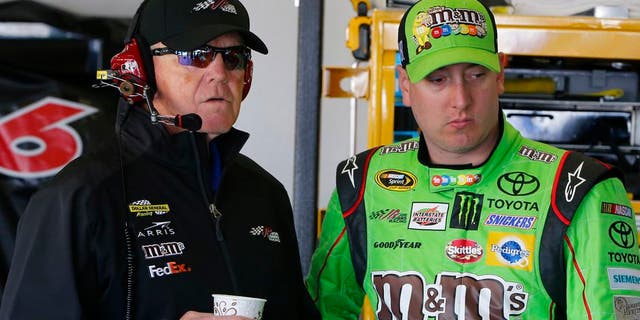 NEWYou can now listen to Fox News articles!
Things can turn around pretty quickly in the Monster Energy NASCAR Cup Series, and thats exactly what Joe Gibbs Racing is hoping for, a turnaround.
Its no secret that as a team, JGR has been behind in the first seven races of the season, but a visit to Bristol Motor Speedway could see the four-car Toyota team get its mojo back.
Weather permitting and frankly, it doesnt look good the 0.533-mile, high-banked Bristol track will host the Food City 500 today (1:30 p.m. ET, FOX). And if the race gets rained out, the teams will go tomorrow afternoon instead, when the forecast is far more promising.
Regardless of weather, though, the JGR Toyotas have been fast all weekend. Five-time Bristol winner Kyle Busch was fastest in both of Saturdays practices, with teammates Denny Hamlin third in the morning session and Daniel Suarez second in the final Happy Hour round.
And unlike the ultra-fast 1.5-mile tracks where aerodynamics are so critical, the driver plays a more important role at the short tracks, which should play into Buschs favor.
Still, the 2015 NASCAR champion knows it will be a wide-open race.
Theres five guys, maybe even seven guys that can walk in here this weekend thinking this is our weekend to get a win, said Busch. We have to fight those guys in order to go out there and get the win for ourselves.
And Busch said hes up to the challenge.
Bristol, this is one of my best wheelhouses and I really enjoy coming here, its a lot of fun, he said.
As far as JGR getting off to a slow start, its worth considering that seven-time Cup champion Jimmie Johnson had the worst six-race start of his entire career and then won two weeks ago at Texas.
And when Johnson won, the narrative suddenly changed from, Whats wrong with the No. 48 team? to Is Johnson going to win his eighth championship this year?
A victory at Bristol could have a similar impact for Busch.
In any event, hes not sweating JGRs season so far.
I dont think theres any reason for cause for concern yet, Busch said. But ask me that question again in about 10 weeks.