Kyle Busch holds on in thrilling finish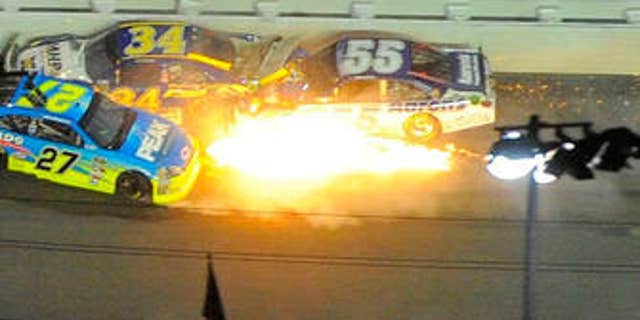 Saturday night's Budweiser Shootout showcased everything fans expected - tight racing in packs, a big crash and an aggressive battle for the lead. The trio combined for a horrifying crash with less than two laps to go in the race.
Kyle Busch edged Tony Stewart by inches at the line to win the race in a green-white-checker finish, but it wasn't the victory that was most notable in the race. Instead, it was the crashes resulting from the way drivers tried to push one another's cars to pick up speed.
Busch, Jeff Gordon and Stewart had been battling for the lead late in the race. Defending NASCAR Cup champion Stewart had taken the lead when suddenly on Lap 74 everyone behind him was piling up. Gordon was pushing Busch when Busch spun onto the apron. Gordon's car shot up across the track and into Kurt Busch.
Sparks flying Gordon's car slid several hundred feet down the track on its driver's side, then rolled across the track. Gordon was not injured in the crash.
It was the latest in a series of crashes that marred the NASCAR Sprint Cup non-points showdown.
Kevin Harvick, Dale Earnhardt Jr. and Matt Kenseth were among the night's crash victims, but they weren't the first.
Nine laps into the race, nine cars sustained damage. David Ragan was pushing Paul Menard when he slipped too far to the left of Menard's car and spun him, sparking the multicar crash. Kenseth, Denny Hamlin, Michael Waltrip, Juan Pablo Montoya, Kasey Kahne and Jeff Burton were caught up in the action, as was Jeff Gordon, who took only minor damage as he threaded his way through the crashing cars. Tony Stewart and Jimmie Johnson made their way through cleanly as cars slowed against the wall and on the frontstretch apron.
The same type of scenario played out once more on Lap 31, but this time only one car spun. Martin Truex Jr. was pushing his Michael Waltrip Racing teammate Clint Bowyer through the trioval when Bowyer spun onto the infield grass. No other cars were collected in the incident.
On Lap 48, Kyle Busch looked like his solid night was in danger as he was tagged by Johnson and lost control, slipping onto the apron. But he reeled his car back in as he pulled back onto the track, regaining control without hitting anyone.
Then on Lap 47, several of the drivers expected to contend for the win down the stretch were taken out of action in a six-car pileup. Marcos Ambrose pushed Joey Logano around, then Logano turned around into traffic and was hit by Earnhardt Jr., then sideswiped Martin Truex Jr. before Kenseth was hit as well. Earnhardt Jr. had led 12 laps to that point, Truex six and Harvick three.