Kyle Busch holds off Kenseth for XFINITY win at Kansas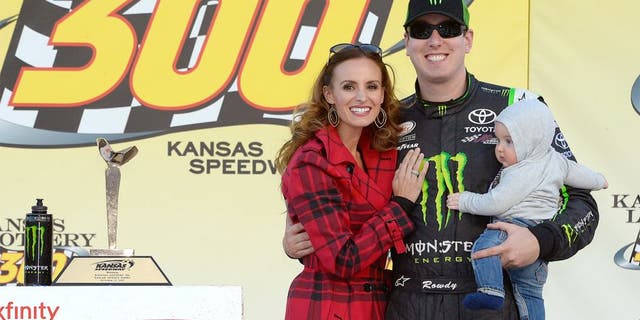 NEWYou can now listen to Fox News articles!
Kyle Busch held off fellow Joe Gibbs Racing teammate Matt Kenseth and the rest of the field to win the Kansas Lottery 300 XFINITY Series race at Kansas Speedway on Saturday.
Kenseth finished second, followed by Joey Logano, Ty Dillon and Regan Smith.
Series points leader Chris Buescher overcame a speeding penalty en route to a respectable sixth-place finish that helped him maintain a healthy lead in the standings.
Busch had to overcome his own speeding penalty and some damage to the right side of his No. 54 Toyota from incidents earlier in the race. Then he had to beat Kenseth on one final green-white-checkered restart to get the win.
It was quite a battle over the last 30 laps between the JGR teammates, but ultimately Busch prevailed because, he said, his car was slightly better overall than Kenseth's.
"My tongue was hanging out. I can't imagine what Matt felt like," said Busch, who led a total of 56 laps overall. "He was driving way harder than I was. But, man, when you've got two really good race cars like that, you've just got to bring them home.
"(Team owner) Joe (Gibbs) might get mad at us if we tear 'em up. But Matt raced me really, really hard, door-to-door down the straightaways. Then down in the corner and in the middle of the racetrack, my car was really good. I could see he was moving around, trying to find anything that could gas his car up. I had plenty of that."
Busch thus raced to his fifth XFINITY victory of the year and record-extending 75th overall.
Busch also became the winningest NASCAR driver in Kansas Speedway history with four. He won XFINITY races n 2007 and 2014 and a NASCAR Truck event in 2014.
After Kenseth led the first 117 laps and 148 in all, Busch grabbed the lead for good in his Toyota with 15 laps to go.
Busch appeared to have seized control on the 147th lap. But during a subsequent caution, he ran into debris that damaged the right front of his car and dropped him back into the field.
When the race resumed to green-flag racing, Busch returned to contention and rode Kenseth's bumper before taking the lead.
Another caution with four laps to go extended the race to a green-white-checkered finish.
"This was a good day for us and something to build off of hopefully for tomorrow," said Busch, who could battle his teammate again in Sunday's Sprint Cup race at the 1.5-mile track.
Kenseth was philosophical after being forced to settle for second.
"As much as I love Kyle, and he's a great teammate, it gets aggravating sometimes watching him win all the time on TV (in the XFINITY Series). It's even more aggravating to get beat by him," said Kenseth, laughing.
The Associated Press contributed to this report.