Kyle Busch, after 75th win: No plans to quit XFINITY Series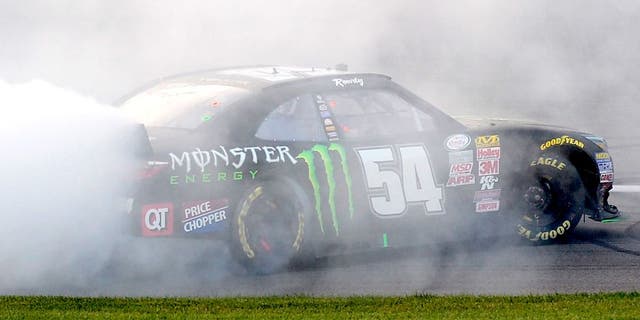 With Saturday's win at Kansas Speedway, Kyle Busch has now been to Victory Lane an astounding 75 times in the NASCAR XFINITY Series.
With his 50th career victory in NASCAR's No. 2 division back in 2011, Busch leapfrogged Mark Martin to become the series' all-time wins leader.
Now at the tender age of 30, Busch -- a full-time Sprint Cup Series driver -- could theoretically continue running a limited XFINITY schedule for another decade or even longer.
So at what point does he decide to call it quits from XFINITY, where his mark of 75 wins already may never be surpassed?
"I don't know if you get to 100 and call it good or what you do," Busch told FOXSports.com after Saturday's XFINITY race at Kansas. "Fortunately, I've been in a good situation with Joe (Gibbs, team owner) and everyone at Joe Gibbs Racing to race in the XFINITY Series, and if we've got sponsors that continue to want to be on my race car and to go out there and to put a good show on, then I'll continue to do it.
"It's a job, it's a paycheck for these guys and it's fun for me to be able to do and to collect trophies and also just kind of set that mark a little bit higher. Hopefully, nobody will get it."
With 75 trophies being a major milestone, Busch reflected on his first career win in NASCAR's No. 2 series. It came at Richmond in May 2004 while driving for Hendrick Motorsports. At the time, the XFINITY Series was known as the Busch Series.

"It was the week before my birthday or two weeks before my birthday -- I don't remember how the schedule worked out that year," Busch said. "I should have won a couple before that, but didn't. I won at Richmond then I won again at Charlotte a couple weeks later."
When Busch scored his first triumph in what is now the XFINITY Series, did he ever expect to get to 75 wins?
"I don't think I ever would have said I'd get to 75," he said. "I think I remember Mark Martin at that time was around 40 or 42 when I started, and I was like, 'That's a lot of wins.' Now it's 75.
"I'm stretching it, I'm trying to put it out there where it may never be reached again, but if it is ever reached again, then I'm sure that driver will be hated just as much as I am."