Kurt Busch's ex-girlfriend indicted for allegedly stealing from military charity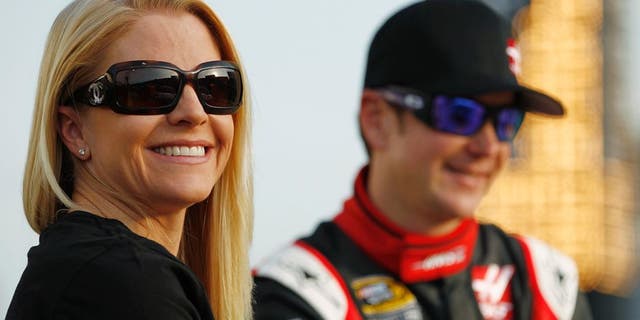 Patricia Driscoll, the ex-girlfriend of NASCAR Sprint Cup Series driver Kurt Busch, has been indicted for allegedly stealing from the military charity she used to run, according to the Associated Press.
The AP reported that Driscoll was indicted on seven charges -- two counts each of wire fraud, mail fraud, and tax evasion, and one count of attempts to interfere with administration of Internal Revenue laws.
Court documents don't say how much prosecutors believe Driscoll took from the District of Columbia-based Armed Forces Foundation, whose mission is to support service members, veterans and their families.
But a 2014 tax return for the non-profit says that the "foundation has become aware of suspected misappropriations" by Driscoll totaling more than $599,000 for the years 2006 to 2014. It says she misused money for meals, travel, parking tickets, makeup and gifts.
An 11-page indictment charges Driscoll with using foundation money to pay her personal bills, diverting foundation funds to her personal bank account and lying to the Internal Revenue Service about her salary and benefits.
Driscoll, 38, of Ellicott City, Maryland, declined to comment when reached by phone Tuesday.
"All the allegations that have been made are unproven, and Ms. Driscoll contests them and looks forward to her opportunity to do so in court," her attorney, Barry J. Pollack, told the AP Tuesday evening.
Driscoll had resigned from the charity in 2015 amid an internal investigation into published reports alleging that she used foundation funds for her personal expenses. At the time she left, she had been president of the foundation for 12 years.
This was not Driscoll's first time in the headlines.
She became a prominent figure in the NASCAR community through her involvement with the Armed Forces Foundation, and then became highly visible when her relationship with Busch began.
But their relationship did not end well.
The couple had a falling out on Sept. 26, 2014, two nights before the fall NASCAR Sprint Cup Series race at Dover International Speedway.
Driscoll alleged that after an argument, Busch smashed her face three times into a bedroom wall inside Busch's motorcoach. Busch has emphatically denied the charges, saying he cupped her face and told her she had to leave, and that in the process the back of her head "tapped" the wall of his motorcoach.
Afterward, Busch and Driscoll traded charges against each other.
Busch claimed that Driscoll is a trained assassin who has traveled all over the world and has shown him pictures of drug lords she killed.
Driscoll denied Busch's claims and said the 2004 Sprint Cup champion had serious problems with alcohol and depression.
In February 2015, a Delaware judge issued a no-contact order against Busch, prompting NASCAR to suspended the former Sprint Cup champion for the season-opening Daytona 500. When the Delaware Department of Justice announced it would not press criminal charges against Busch, NASCAR reinstated him on March 11, 2015.
The Associated Press contributed to this report.