Kurt Busch starts last, ends second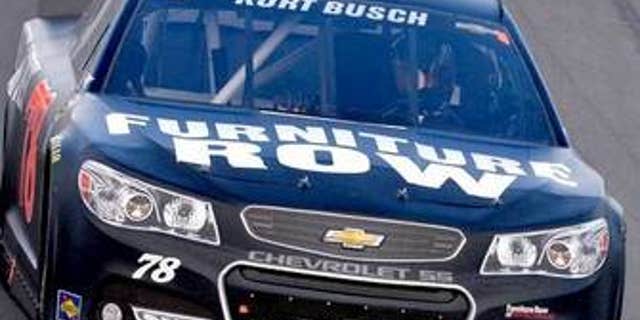 KANSAS CITY, KAN. – From spinner to near winner, Kurt Busch put on a masterful display of racing at Kansas Speedway.
After wrecking in practice on Saturday, the single-car Furniture Row Racing team from Denver worked feverishly to prepare the backup car. Busch was forced to start at the rear of the field on Sunday and salvaged a second-place finish behind race winner Kevin Harvick in the Hollywood Casino 400.
"I'm just so proud of this team, the way these guys have worked all year," Busch said. "They deserve a win, and sorry I couldn't deliver a win for them today. We finished second. We'll take it. We haven't quite had the start to the Chase that we wanted, but overall we have two top 5s out of four races. That's not bad."
Busch had the benefit of performing the tire test for Goodyear in July and was fast at the second test on Thursday. Although the team had the tire data to work with after temperatures dropped by 30 degrees on Sunday, it was a new ballgame for everyone.
By the first restart on Lap 9, Busch had gained 10 positions. And with a record 15 cautions to follow - and remarkably no issues with his new pit crew - Busch was able to have the necessary adjustments made to his car to slice through traffic and persevere as others faltered.
When the third caution was called for debris on Lap 87, Busch was among the top 15. Two cautions later, on Lap 122, Busch restarted 10th - but pit strategy mired the No. 78 Furniture Row Chevy in traffic at 22nd place on the lap 174 restart. But Busch gained six spots by the next restart - and three additional positions over the next three green flag laps.
While battling through his competitors, Busch made contact with Jeff Gordon on the back stretch just after the 11th caution on Lap 192 - and the champions agreed to disagree following the event as to whether it was just a racing incident.
"Restarts were treacherous today and that is where the No. 24 and I raced really hard," Busch said. "He was on the outside hooked his nose right on our rear spoiler and I was just sliding. He thought I was pinching him up into the wall. I'm like, 'No, you've got to give an inch to get an inch.' Then it just turned into a bit of rough play."
Gordon, who finished third and moved up to fourth in the point standings, agreed with Busch that the competitors "were just racing hard."
"I think that everybody wants to go out there and race hard on those restarts," Gordon said. "It gets pretty wild and crazy, but there is no reason to run into somebody on the straightaway.
"It's not a NASCAR race if you don't have a discussion with another driver out there about an incident on the track. These restarts were so tough out there. Everybody is just trying to get every position they could. I got in the outside lane there one time and he just came up and the next lap I got to his bumper and got him loose. I guess that kind of led to him wanting to run into me on the right side on my door. These cars are so sensitive aerodynamic wise you just can't have any little damage like that."
Busch lined up 11th with 67 laps to go and when Dale Earnhardt Jr. jammed up the field on the restart when he thought the car had a flat tire, the No. 78 powered through traffic to sixth.
From the top five on Lap 216, Busch was unable to hold off a charge by Jimmie Johnson for fifth. However, when race leader Brad Keselowski ran out of gas on Lap 224, Busch was still in the fight. After losing five positions in the pits on the final stop, he jumped from 10th to eighth on the Lap 233 restart, then set his sights on Harvick. By the final restart on Lap 249, Busch was second to Harvick. However, in the lead, the No. 29 Chevy checked out to a two-second advantage over the next dozen laps and inevitably beat Busch to the line by 1.140 seconds.
Busch's 10th top-five finish of the season - and his first at Kansas Speedway - elevated the No. 78 team to seventh in the point standings.
"Today is a small little victory in my own mind," Busch said. "I don't know how much it counts for anybody else, but this is the last track that I needed to get a top-five finish on, and now I have a top five at all the tracks. So a small little feather in the cap.
"There's all these reports or stories and opinions about how small this team is, but (team owner) Barney Visser deserves a lot of credit. We got back out on the track after our wreck in Saturday's practice at the same time that Kyle (Busch) did, so it shows that a team can turn a car around just as quick as the (Joe) Gibbs team; that's important. Those are numbers that don't rank anywhere, but they rank in my mind."