Kurt Busch: No plans to try Indy 500/Coca-Cola 600 double again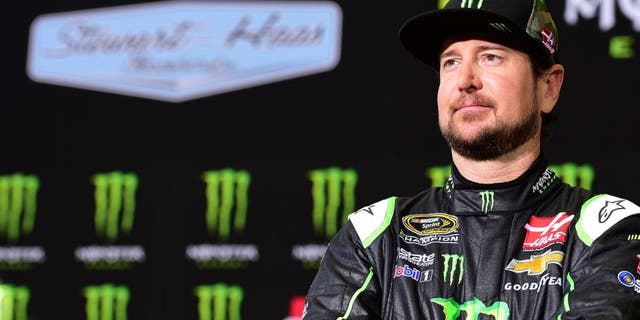 NEWYou can now listen to Fox News articles!
Last year, Kurt Busch completed one of the most impressive feats in recent auto racing history when he finished sixth in the Indianapolis 500. Not only was it Busch's first Indy 500, it was his first open-wheel race of any kind and he won Rookie of the Year honors after a tremendous drive against top-notch competition.
Just don't expect him back at the 500 anytime soon.
Wednesday, Busch announced he had signed a multi-year contract extension to remain the driver of the No. 41 Stewart-Haas Racing Chevrolet in the NASCAR Sprint Cup Series and that Monster Energy would be one of his major sponsor partners.
In fact, Busch said as part of the Monster deal, he could end up doing a sports car race in Abu Dhabi in the NASCAR off-season. So FOXSports.com asked Busch if he planned to enter the Indy 500 again or participate in NHRA Pro Stock drag racing, something he tried in 2011.
In both cases, the answer was no.
"I don't know what the future will bring outside the NASCAR Sprint Cup with Monster, but with this synergy, it's so powerful, I don't see a need to go back and run Indy, unless Monster wanted to go do something such as that," Busch told FOXSports.com.
Busch said there are practical obstacles to an Indy return. Andretti Autosport, the team he drove for at Indy in 2014, is a Honda team. Stewart-Haas Racing is a Chevrolet team and Chevrolet is very active in the Verizon IndyCar Series.
"We had an addendum in our contract before, in case something swapped, but that was 2014," Busch said. "We've yet to work on any of those details, because we want to support everybody the proper way. The No. 1 focus is Stewart-Haas. No. 2 is Haas Automation and Monster Energy. No. 3 is Chevrolet. And so we want to respect everybody's agenda."
As for the NHRA, 6-second quarter-mile passes are not enough on-track time for Busch, who is used to 3-hour races in NASCAR.
"That was fun, but I didn't like how we only raced twice a day, unless you got to the final rounds on Sunday," Busch said. "That's the weird DNA I found as an oval racer, a circuit racer making lap after lap. When you do drag-race passes, that's a different DNA. That's a different style of racer and it didn't quite fit what I was born to do, which is go out and run laps on circle tracks."