Kurt Busch has some sage advice for younger bro Kyle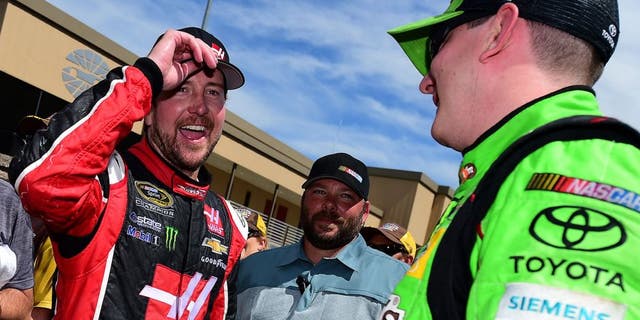 Kurt Busch has advice for brother Kyle: Stay put.
It's advice that comes from experience.
The brothers Busch are both NASCAR Sprint Cup champions. Kurt won his title in 2004, when he was 26 years old and in his fourth full season. Younger brother Kyle won the crown last year in his 11th full-time season.
Kurt left Roush Fenway Racing in late 2005 to join Team Penske. And although the elder Busch has had several excellent seasons since, he's not been able to win another Sprint Cup title, something that led him to give Kyle some pointed advice: "That's what I've always tried to tell Kyle: Once you find that (championship) situation, don't let it go. Capitalize on it."
For the record, Kyle isn't going anywhere -- he has a long-term deal with Joe Gibbs Racing, where he's been since 2008.
Last year, Kyle missed 11 races with serious leg and foot injuries, became a first-time father and turned 30, all in the same season. But he came back to win the title in dramatic fashion nevertheless.
Interestingly, Kyle winning under such dire circumstance didn't make him value the championship more. He instead pointed to 2008, his first year with JGR, when he won eight races in the regular season but tanked in NASCAR's playoff round.
"I don't think I appreciate it any more for having to go through what I did vs. just being able to accomplish that feat," said Kyle. "Say 2008, when I had my best season going, I would have really cherished it then also. Coming from Hendrick to Joe Gibbs Racing, having the fire that year -- man, we were really good. Then it all went to heck."
Still, winning any title is a career-defining moment.
"It's an amazing accomplishment, something that you've committed your whole life towards," said Kurt. "And to be able to be that guy on top for that moment, it's something very special. ... The now is being a champion, and the legendary status is being a repeat champion. And I've always thought all along that Kyle would be a legendary driver in this sport."