Kurt Busch grabs Las Vegas pole in 'insanely fast' car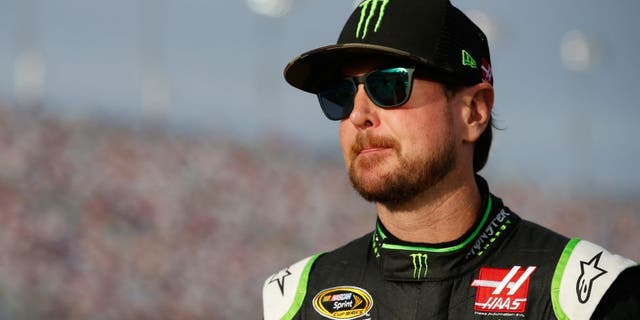 Hometown hero Kurt Busch won the pole for Sunday's Kobalt 400 at Las Vegas Motor Speedway, posting a track record speed of 196.328 miles per hour in his No. 41 Stewart-Haas Racing Chevrolet.
"It was insanely fast. It's amazing all the detail that goes into qualifying with finding that perfect lap three times out there," said Busch. "My second outing we were way tight and I didn't know where it came from. (Crew chief Tony) Gibson and crew went to town. They just adjusted on it. We gambled and we made that last session, which was great. That was icing on the cake to be able to go out into the third round.
The pole was Busch's second in a row, 21st of his career and second at his hometown track.
"Two poles in a row," said Busch. "This is great."
In the first of the three rounds of qualifying, Busch smashed the track record with a lap of 196.378 mph. He was one of 14 drivers who broke the previous record.
Joey Logano qualified on the outside of Row 1, running 195.851 mph in the No. 22 Team Penske Ford. Matt Kenseth was third in the first of the four Joe Gibbs Racing Toyotas, followed by Logano's teammate, Brad Keselowski and Austin Dillon.
"This track in qualifying is all about how bad you want it," said Logano. "We always talk about the guts-to-brain ratio and this is a track you need more guts than brains to tell yourself to put your foot on the throttle when you really feel like you shouldn't. It is fun for that reason. We were good in (Turns) 3 and 4 but not enough to beat Kurt. Another front row starting spot, our third in a row here, but second always stings a little bit."
In the second round of qualifying, Carl Edwards lost a right-rear tire and pancaked the right side of the No. 19 JGR Toyota. The hit was hard enough to send Edwards to a back-up car, and he will start Sunday's race from the rear of the field. Also failing to make it out of the second round were Danica Patrick (18th), Dale Earnhardt Jr. (20th) and Kyle Busch (23rd).
"We were real, real tight," said Earnhardt.
The biggest surprise of the three rounds of qualifying was another disappointing run for Clint Bowyer, who qualified all the way back in 35th place in the HScott Motorsports Chevrolet.
Another frustrated driver was Jamie McMurray, who wound up 29th in his Chip Ganassi-owned Chevrolet. "We can't seem to make any adjustments that make the car faster," said McMurray.