Kurt Busch debuts NASCAR's new digital dashboard at Darlington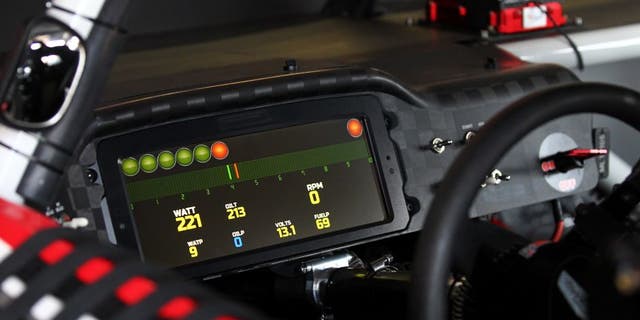 NEWYou can now listen to Fox News articles!
NASCAR is debuting its all-new digital dashboard this weekend at Darlington Raceway on the No. 41 Stewart-Haas Racing Chevrolet of Kurt Busch. Each Sprint Cup Series team had the option to run the new dash, but Busch was the only to take the opportunity.
Stewart-Haas Racing vice president of competition Greg Zipadelli told FOXSports.com the No. 41 team used the digital dashboard during the June 9-10 tire test at Darlington and Busch wanted to try it out in race conditions.
"We have to go to it eventually anyway, so Kurt wanted to run with it," said Zipadelli.
This weekend the team plans to work out the bugs in the system before running it again next weekend at Richmond International Raceway.
Richard Childress Racing's Austin Dillon said they are not running the digital dashboards this weekend because the finished product just was not ready for the organization's three teams.
Dillon said the new digital dashboards will change what you look at in the cockpit and the new information drivers will have to process during an event.
While Busch is the only driver equipped with this new technology at Darlington, he can take the digital dash out of the car at any point before Sunday's race.
Much like Dillon and the RCR cars, several other teams are expected to have the digital dashboard installed in their cars next weekend at Richmond.
Below is a Q&A, courtesy of NASCAR, explaining how the digital dashboard works.
Q: How many different screens are on the digital dash?
A: The digital dash will have 16 preset screens, but teams have the opportunity to customize them as they see fit.
Q: Can teams customize the displays on the digital dash?
A: Yes, the units are fully customizable for teams. They have the ability to display data using numbers, bar graphs, color scales or a digital version of the familiar gauge with needle. Teams can also customize which information is shown on the screen as well as its size and position.
Q: What information is available to teams on the digital dash?
A: For 2015, teams will have access to the same information that is currently available via analog gauges – RPM, water temperature, oil temperature, oil pressure, water pressure, fuel pressure and voltage. We are working on including additional information for the future to help strengthen the competition level and fan experience.
Q: We've heard you talk about two-way communication with the car, what does that mean?
A: We are working on a network to allow the dash to send real-time information to NASCAR and teams and vice versa. Crew chiefs will be able to monitor important information such as oil pressure or water temperature, and NASCAR will be able to directly communicate information such as caution periods or penalties. This network will ultimately provide teams more information that will increase the competition level and safety, and will provide fans with more engaging data.
Q: Will the digital dash also measure tire pressures?
A: We are working with Goodyear to identify options for the dash to measure tire pressure, however any potential decision would not go into effect this season. To maintain a level playing field, teams using the digital dash will only have access to the same data as teams using analog gauges.
Q: How will the digital dash enhance the fan experience?
A: Ultimately, fans will have access to more comprehensive, and accurate, data from their favorite teams. Fans could consume this information real-time through the race broadcasts as well as NASCAR's digital platforms.
Q: How will the digital dash enhance the competition level?
A: Teams will have access to more reliable and accurate data through the digital dash. This will allow drivers and crew chiefs to have an exact understanding of what is happening in the car as well as what adjustments need to be made.