KU football starts camp on previously deserted grass practice fields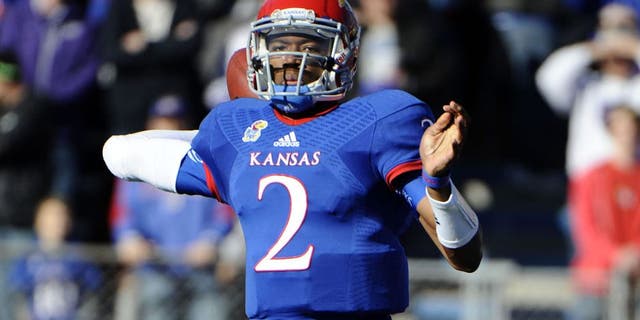 It's like the scene in Friday Night Lights where Coach Taylor decides to have the Dillon Panthers play in an abandoned field... only this isn't Texas, and it isn't high school football.
It's just another day in the life of the Kansas Jayhawks football program.
Montell Cozart has reason to be grateful Kansas football's first two practices were moved to grass fields instead of turf. "I'm not getting a lot of (foot) blisters," the junior quarterback told the Topeka Capital-Journal, "so I love it."
KU coach David Beaty decided to make the switch this year. While previous teams practiced primarily either at Memorial Stadium or on the adjacent turf practice fields, the first-year coach scheduled 10 of KU's first 11 workouts on the old practice fields behind Anschutz Pavilion on the other side of campus.
The reason, he said, is twofold. For one, he'd like to make KU's players appreciate the nice facilities they have while also realizing some of the history of the program.
"We want them to understand that they're standing on the shoulders of giants, (and) that's where those giants practiced," Beaty said. "We want them to understand where this thing was built and how it was built."
The second thought behind changing up the location was to lessen the burden on players. Grass fields are much cooler than turf ones and also can be easier on the body.
(h/t Topeka Capital-Journal)