Kraft takes jabs at Colts, 'nothing more satisfying' than beating them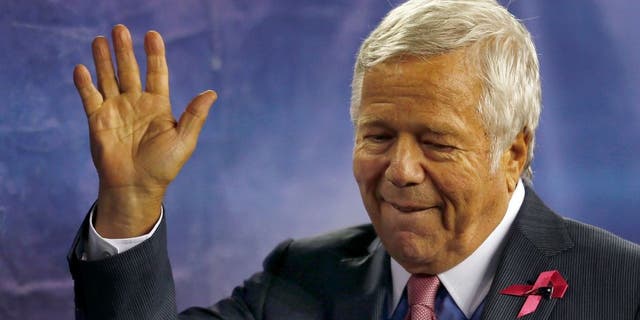 The New England Patriots-Indianapolis Colts rivalry has been highly-publicized since the Tom Brady-Peyton Manning era began. It's continued to be a must-see matchup since Andrew Luck took the reigns, and the Deflategate proceedings last season added another wrinkle to the bitterness.
Of course, the Colts were the team that outed the Patriots for having underinflated footballs, which obviously didn't sit well with New England.
That was made even more clear at Willie McGinest's Patriots Hall of Fame induction ceremony on Wednesday, where owner Robert Kraft threw some shade at the Colts.
"During Willie's career, there was nothing more satisfying than settling the Colts with a loss -- something the Patriots did 16 times in 21 attempts during Willie's 12 seasons with the Patriots," Kraft said.
"Some of my favorite, most memorable McGinest moments came in regular season clashes against the Colts. In the 2004 season-opener, he preserved a three-point win in the final seconds with a 12-yard sack on Peyton Manning, turning a chip shot, game-tying field goal into 48-yard miss by Mike Vanderjagt. Arguably his most iconic moment came in a game at Indy in 2003, when he stopped Edgerrin James at the goal line in the last seconds. ... As a pass rusher, he had the speed to wreak havoc on a quarterback. Just ask our good friend Peyton Manning."
The Colts haven't made their rebuttal public, but they'll have a good chance to silence the critics in Week 6 when they square off against the Patriots in Indianapolis. That game is slated to be the first of Brady's 2015 season after sitting out the first four, adding another element to the matchup.
(h/t Indy Star)