Kopitar shoots, scores for charity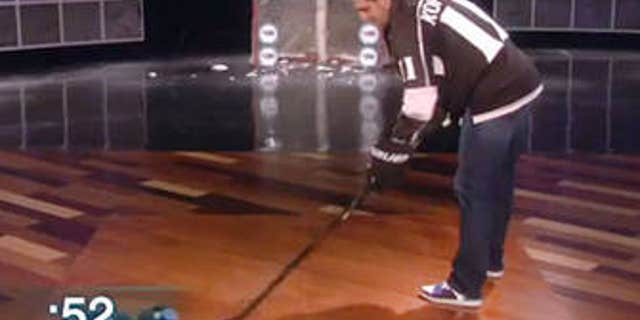 NEWYou can now listen to Fox News articles!
During the month of October, seemingly every team and league in America makes an effort to raise awareness and money for breast cancer research, and every organization's effort is appreciated.
But not many breast cancer awareness donations are made in quite as cool a fashion as the one promised by the Los Angeles Kings, who gave $10,000 to charity after center Anze Kopitar went on a talk show and smashed plates with hockey pucks.
Appearing on The Ellen DeGeneres Show on Wednesday, the Slovenian-born Kopitar took shots on a goal that was lined with 10 china plates. For each plate Kopitar shattered in 60 seconds, JCPenney would be donating $1,000, a number the Kings promised to match.
As you might have guessed, Kopitar, who scored eight goals and had 20 points during Los Angeles' Stanley Cup run in 2012, did not need the whole minute.
Some may point out that $10,000 represents about 0.01 percent of the Kings' player payroll this year -- or about 0.13 percent of Kopitar's salary alone -- and may also complain that perhaps they should have probably chipped in more.
But it's still a generous amount, and it's an awesome way to give it away -- and it beats pink penalty flags any day. No offense to pink flags out there reading this.
The original article can be found at FOXSports.com: Kopitar shoots, scores for charity.