Konstantin Erokhin tests positive for steroids following UFC fight in December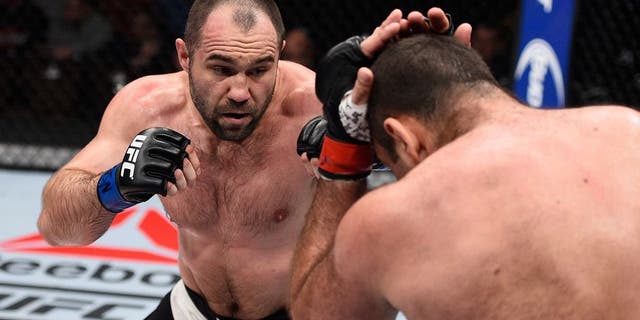 Heavyweight Konstantin Erokhin is the lone fighter from the trio of shows the UFC held back in December to return a positive drug test stemming from his bout with former title contender Gabriel Gonzaga at "The Ultimate Fighter" season 22 Finale on Dec. 10.
Erokhin tested positive for drostanolone, which is an anabolic steroid, in a pre-fight test administered by the commission.
The Nevada State Athletic Commission confirmed the results of the drug testing to FOX Sports on Thursday with all of the other athletes from UFC 194, "The Ultimate Fighter" Finale and UFC fight Night: Namajunas vs. VanZant coming back negative.
Erokhin lost a decision to Gonzaga in a fight that was widely panned for a lack of action, and now it appears he'll face a suspension from the drug test results.
The heavyweight competitor is currently listed on the agenda for the upcoming Nevada Commission hearing on Wednesday, Feb. 17 for a possible temporary suspension until a final ruling can be made at a later date.
The loss to Gonzaga dropped Erokhin to 0-2 inside the Octagon and he was soon deleted from the active roster listings according to the UFC, which typically means a competitor has been released from the promotion.