Koivu practices, will join Wild on road trip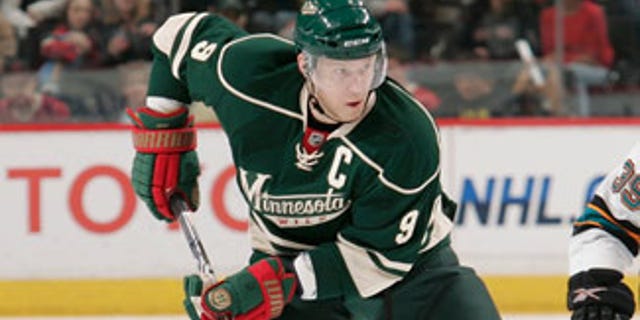 The Minnesota Wild soon could get a boost in their quest for a Western Conference playoff spot as team captain Mikko Koivu practiced with the team Monday.
Koivu has missed the last eight games with a broken finger suffered in a Feb. 18 game against the Anaheim Ducks. The Wild are 3-3-2 without Koivu, but enter Monday's games ninth in the Western Conference, one point behind eighth-place Los Angeles.
"Every time you can get out with the guys and skate with the team I think you realize you're getting closer and closer and that's a step ahead again," Koivu told reporters following practice. "And I'm excited about that."
Koivu said he's done enough watching and wants to get back to helping his team fight to return to the postseason for the first time since the 2007-08 season.
"I think it's the timing, the end of the year and every game is huge," he said. "It is always, but when you get closer to the end that's what hurts even more. You want to get out there as soon as possible."
However, he wouldn't say when he would be able to return.
"I don't want to start underlining (return dates)," he said. "We have a plan here and we'll see how it goes."
Koivu met with a hand specialist Monday morning, but he hasn't been cleared to take part in battle drills and can't fully grip his stick. He certainly won't play Tuesday, when the Wild host the Colorado Avalanche (8 p.m. ET, VERSUS, TSN2), but he said he will be traveling with the team on a four-game road trip that starts Thursday in Nashville. The hope is he'll be able to return at some point on the trip, which also includes stops in Dallas, Vancouver and San Jose.
"It's tough to explain," Koivu said of the pain he still feels. "Couple times it doesn't hurt, next second, move, kind of (hurts). It's still far away from being normal, but I actually felt better than I thought.
"It's a matter of the feeling. Just grabbing the stick, shooting the puck and things like that. We'll see. Everything is (healing) on pace for what it should be. Everything's going in the right direction, so I'm happy with that."
How important will Koivu's return be? Despite not playing in more than three weeks, he's still second on the team in scoring with 49 points. In the eight games Koivu has missed the Wild have scored 18 goals (2.25 per game); in the 58 games he did play, they scored 151 (2.60 goals per game).
Contact Adam Kimelman at akimelman@nhl.com. Follow him on Twitter: @NHLAdamK