Kobe's dunks lead Lakers, push Hornets to brink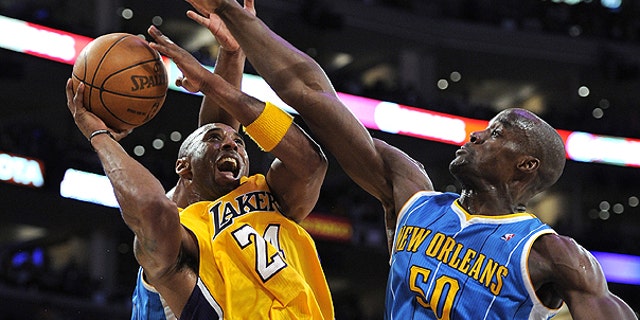 LOS ANGELES – A sprained ankle is a minor impediment to Kobe Bryant at this point in his playoff career. Emeka Okafor is a much larger obstacle.
Bryant overcame them both on a dunk that propelled the Los Angeles Lakers to a wave of momentum toward the second round.
Bryant scored 19 points on a sprained left ankle, throwing down two impressive jams that led the Lakers past the New Orleans Hornets 106-90 in Game 5 on Tuesday night and to a 3-2 series lead.
Bryant's second-quarter dunk on Okafor could turn out to be the Lakers' signature moment of a taxing first-round series that began with a stunning Game 1 loss. That's exactly what Bryant was trying to achieve when he picked up his dribble with two hands and threw down a right-handed slam right in Okafor's mug.
"I just had a lane to the basket," Bryant said. "It looked like he was going to challenge me at the rim, and I decided to accept the challenge. ... It's a message for us that this was important. It's time to raise up and do what we've got to do. They're not saved dunks. I don't have much of those left."
Bryant left New Orleans on crutches two days earlier after getting hurt late in Game 4, but he refused an MRI exam or extensive treatment when he got home. Postseason injuries are nothing new for the two-time NBA finals MVP, who has persevered through a slew of them during 67 playoff games in the previous three years.
"That's what he does," said Monty Williams, the Hornets' frustrated coach. "All this talk about his ankle. Did it look like his ankle was hurting? OK then."
Trevor Ariza scored 22 points, Marco Belinelli added 21, and Chris Paul had 20 points and 12 assists for the seventh-seeded Hornets, who have lost three of four since their series-opening victory. Ariza hit five 3-pointers, but managed just six points in the second half as the Lakers took control of the game and perhaps the series.
Game 6 is Thursday in New Orleans.
"The great thing about it is now we get to go back to our home court with our fans behind us, and we have to bring energy," Paul said. "The games that we've won in the series, we've been on attack mode. We have to get back to attacking the rim, and get to the free-throw line."
Andrew Bynum had 18 points and 10 rebounds, and Pau Gasol added 16 points as the two-time defending NBA champions roared back from a slow start in a pivotal game for their threepeat hopes.
And though he got off to a slow start and played less than 29 minutes, Bryant erased any worries about his fitness with that poster-ready dunk over Okafor.
"That's for show," Okafor said of Bryant's injuries. "You know Kobe is going to play no matter what, even if he has to be out there on one leg."
Bryant added another crowd-riling slam with his left hand in the third quarter while Los Angeles jumped to an 11-point lead, and he headed back to the locker room early to get more treatment when he came out for good in the final minutes.
Los Angeles also forced 19 turnovers by the Hornets, who were outscored 22-2 in second-chance points after dominating that effort-based statistic in Game 4.
"They got 15 offensive rebounds," Ariza said. "They were in the paint all day. They were more aggressive, and they took it to us."
While Bryant took the emotional lead, the Lakers got another outstanding low-post game from Bynum, who moved exceptionally well on his own sore knee. Gasol also returned to nearly normal after an awful start to the series, while Derek Fisher and Lamar Odom added 13 points apiece.
The Hornets made 61 percent of their shots in the first half, but couldn't maintain that pace when the Lakers got down to business. Last spring, the Lakers also faced an even first-round series heading into Game 5 against Oklahoma City, and they responded with eight consecutive wins.
Ariza breezed past Bryant for a layup on the Hornets' opening possession as they came out with no fear of the big Hollywood stage, making 13 of their 16 shots in the first quarter and jumping to a nine-point lead. Paul racked up eight assists in the period, picking up right where he left off in New Orleans.
But Bryant added three more baskets after his dramatic dunk, staking Los Angeles to a 54-51 halftime advantage. Paul kept the Hornets right in it, scoring seven points in the final 2 minutes of the first half.
Paul's triple-double allowed New Orleans to even the series in Game 4, but he struggled to make big plays after his big first quarter in Game 5. His frustrating night was epitomized in the final minutes when Ron Artest's defense forced him simply to drop the ball on the ground, unable to shoot or to pass without traveling after he jumped.
NOTES: Before the game, Artest received the J. Walter Kennedy Citizenship Award, recognizing his tireless year of mental health advocacy.