Knicks star Kristaps Porzingis is hottest show on Broadway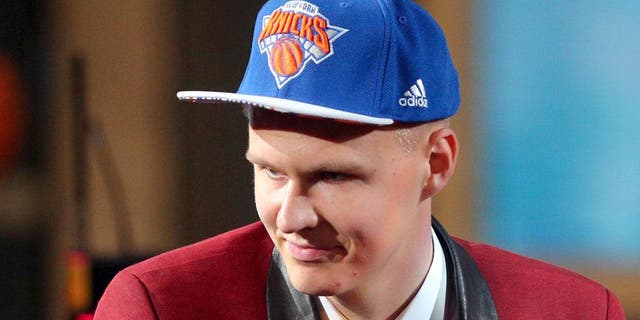 It was an end-to-end sequence that brought the crowd at New York's Madison Square Garden to its feet.
With just under 5 minutes remaining in a Friday night win over the Phoenix Suns, New York Knicks center Kristaps Porzingis raced back on defense for an emphatic block of a shot by Suns rookie Josh Jackson, then raced forward on offense to execute a powerful dunk – and even draw a foul in the process.
"M-V-P! M-V-P!" rang the chants from the Garden crowd.
Porzingis ended the game with 37 points as New York topped Phoenix, 120-107.
That was just one point shy of the career-high 38 that Porzingis scored just four nights earlier in a win against the Denver Nuggets. And it was his sixth 30-point performance in eight games this season for the 4-4 Knicks.
In other words, Porzingis has been getting the message out across the NBA:
A young star is becoming an even bigger star.
Just months ago, the Knicks seemed to be a team in disarray. Team president and failed messiah Phil Jackson had been jettisoned after an unexpectedly rocky tenure with the club, and hometown favorite player Carmelo Anthony had been shipped off to the Oklahoma City Thunder after nearly seven seasons in New York.
With the marquee names gone, the team was now in the hands of Porzingis, the 7-foot-3, 22-year-old import from Latvia whose arrival in New York via the fourth overall pick in the 2015 NBA Draft initially drew groans from fans and the humbling question, "Who?"
But these days Porzingis No. 6 jerseys are an increasingly familiar sight around the streets of Gotham, beginning to replace the fraying No. 7 jerseys with Anthony's name. (Last season, Forbes ranked Porzingis' jersey as the seventh-best seller, while Anthony's ranked 15th.)
Porzingis is now undeniably the face of the Knicks – and it's a role he seems to relish. He even appears to enjoy razzing the cross-town rival Brooklyn Nets and their fans.
"Sometimes I see somebody with a Brooklyn hat on, I say, 'What is that? You need a Knicks hat,'" Porzingis told the New York Daily News in 2015.
But Porzingis' desire to stay in New York was recently called into question when a Latvian magazine published some comments by his brother, Janis Porzingis, who works for the firm that represents the Knick.
Janis Porzingis cited his brother's dissatisfaction with the Knicks last season, when he skipped his exit interview, and noted that Kristaps would need to be happy to re-sign with the team in the future, even if leaving meant taking less money.
But Kristaps said much of the comments were taken out of context and that fans shouldn't be concerned.
"I think the fans know I'm here in New York, I love New York and I see myself as a Knick for a long, long time," Porzingis said.
"I don't think they should be worried about it."
The Associated Press contributed to this story.