Knicks reportedly are listening to offers for Kristaps Porzingis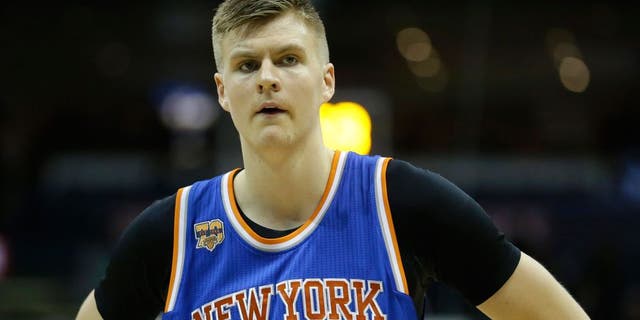 NEWYou can now listen to Fox News articles!
Kristaps Porzingis was supposed to be the cornerstone of the New York Knicks for years to come, but that might not be the organizations long-term plans for the 21-year-old.
According to multiple reports, the Knicks are fielding calls from teams interested in acquiring the budding superstar who apparently has grown frustrated by the dysfunctional organization. Porzingis didnt attend exit meetings with team president Phil Jackson and general manager Steve Mills in April, leading many to speculate about potential friction between the sharp-shooting big man and the Knicks' front office.
Neither the Knicks front office nor head coach Jeff Hornacek has contacted Porzingis since the exit meetings, ESPN reported Tuesday. Porzingis brother, Janis Porzingis, said Tuesday that his Kristapsstill loves New York City and wants to help build a champion there.
"Despite how the Knicks are treating their players, Kris wants to stay in New York," Janis Porzingis said, via ESPN. "He loves the city and he loves the fans and he wants to win with this team. If he's going to be traded, he's going to play out his contact and decide his future on his own."
According to The Vertical, which first reported that the Knicks are fielding offers, Jackson has met with Arizona forward Lauri Markkanen on Monday night, and the Knicks president is considering taking him with the No. 8 pick in Thursdays draft as a replacement for Porzingis.
Porzingis, who was taken with the No. 4 pick in 2015, averaged 18.1 points last season nearly four more points than in his rookie year to go along with 7.2 rebounds and 2.0 blocks.