Knicks' Lin to undergo knee surgery, season may be over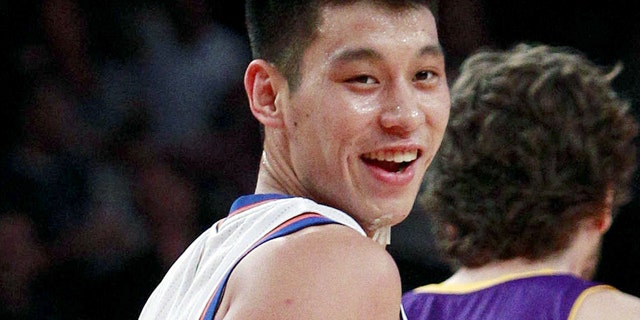 NEW YORK – Linsanity may be over for this season.
Jeremy Lin will undergo arthroscopic surgery to repair a chronic torn meniscus in his left knee and will be out six weeks, the Knicks announced prior to Saturday night's game at the Garden against Cavaliers.
Lin, who became a cultural phenomenon when he led the Knicks to seven straight wins earlier in the season, said he knew he had the tear after undergoing an MRI following the Pistons game last Saturday but wanted to give himself one week of rehab before making a decision.
At best, he would be back for the second round of the playoffs, if the Knicks make it that far, the New York Post reported.
Knicks coach Mike Woodson had said Friday that Lin may not return this season because of the injury, which had forced him to miss the past three games.
Woodson said ailing Baron Davis, suffering from a hamstring pull, would continue as the team's starting point guard but they are not deep at the position. Woodson said Toney Douglas would be dusted off, while the Knicks could add a point guard from the D-League.
Lin will have surgery early this week in New York.
"It sucks, but when I come back I'll be stronger than I'll ever be," Lin said.
According to a person familiar with the situation, Lin made his final decision at 5:45pm ET Saturday after meeting with the Knicks medical director Lisa Callahan.
Lin tested his knee out Saturday morning and saw his mobility was not good. He said he was unable to cut, and decided he would not be able to play through it.
But he added that he hopes to be back before the six-week timetable because he has been a fast healer in the past.
Lin, 23, is a free agent so it is possible he's played his last game as a Knick. But he is not ruling out playing again this spring.
"It's a six-week rehab process," Lin said. "I can heal fast. I can come back as soon as possible and contribute this season, hopefully."
On Friday in Atlanta, Lin avoided reporters on several occasions following Woodson's ominous remark when the Knicks interim coach lumped Lin and Amar'e Stoudemire in the same boat, saying "if" they return this season. Stoudemire's season is also in doubt because of a bulging disk.
"It's disappointing for me," Lin said. "It's hard to watch the games. I want to be out there more than anything right now to help the team."
"It's a big blow for us," Woodson said.
Lin, in his second season after going undrafted out of Harvard, came out of nowhere in early February to seize the Knicks' point guard spot. He has averaged 14.6 points, 6.1 assists and 3.0 rebounds per game.