Knee surgery to keep Spacek out 4-6 weeks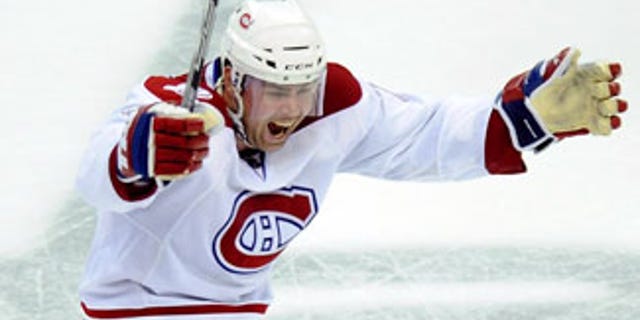 ATLANTA -- The Montreal Canadiens announced Tuesday that defenseman Jaroslav Spacek will undergo arthroscopic surgery on his injured knee and will be out 4-6 weeks -- a timetable that is much more optimistic than the team originally feared.
"So that's good news for our team to have -- his availability down the stretch," coach Jacques Martin said prior to a morning skate at Philips Arena before a meeting with the Thrashers.
Spacek said he was unsure where or when he would have the procedure, but Monday, as the team practiced at Philips Arena, Spacek consulted with noted surgeon Dr. James Andrews in Birmingham, Ala., 150 miles west of Atlanta.
"I don't have to sit out the rest of the year and wait for the next year," Spacek said. "So it's a good thing. We don't know when the clean-up will happen, but it will be as soon as possible. It will take me a couple of weeks off the rink but at least I can comeback this year."
Spacek, 37, averaged 19:17 in time on ice, seventh among Montreal defensemen, in 57 games. However, his plus-8 rating is tops on the defense corps.
Spacek said he suffered the injury in a game with Florida on Feb. 2 as a result of a knee-on-knee collision (he did not say with whom he collided or whether or not it was intentional). He said he continued to play until Feb. 12 against Toronto when the knee began to swell badly. He has been out of the lineup since, missing the last six games entering Tuesday night.
While one media report indicated Spacek's season would be over, the news was all positive Tuesday. Spacek deemed the procedure a "clean up" and said he was unsure how long it would take before he could begin skating after he has it, depending on the damage and how he heals.
For a Canadiens defense corps that has been decimated by injuries -- Andrei Markov and Josh Gorges are both out for the season with knee injuries -- the news on Spacek was welcome.
"I'm actually happy," Spacek said. "I saw them (Markov and Gorges) the last two weeks and after I saw what they're doing, I'm praying I don't have to do the same."
To fill Spacek's spot, the Canadiens acquired Brent Sopel, 34, from Atlanta last Thursday. Sopel, a noted shot-blocking defenseman, ranked second among Thrashers in plus/minus when he was dealt.
Martin addressed criticism that Montreal mostly stood pat at the trade deadline, with their only move Monday being an exchange of minor leaguers, acquiring goalie Drew McIntyre from Atlanta for defenseman Brett Festerling.
"I think we've added to our defense as our needs increased," Martin said. "First one was James Wisniewski early after Christmas when we lost Josh Gorges. He brought some offensive ability to our team on the power play and has helped our team to move the puck. Then we've added people like (Paul) Mara and Sopel to our team that are more defensive-minded, bigger individuals that can bring a certain physicalness to our club."
Sopel made his debut in Montreal's 4-3 win against Carolina on Saturday, playing 17:34 with an even plus/minus rating. Tuesday will mark Sopel's first game against the team to which he was traded last June after winning the Stanley Cup with Chicago.
"There's a lot of things here," Sopel said of Montreal. "Obviously coming to Montreal, the history behind it and putting this jersey on, being Canadian growing up, winning the Stanley Cup and being the Canadiens on the outside pond or at the rink. So I'm thrilled to come here and put the jersey on and be ready to play in Montreal for the first time.
"We've got playoffs here and we're in a good spot. There's a lot of hockey to be played. We need to keep moving up in the standings and get ourselves set up for, hopefully, some home ice and move from there."