Klopp's combative Liverpool earn EPL draw at Tottenham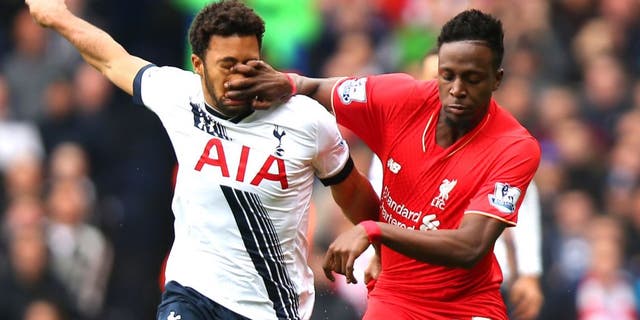 NEWYou can now listen to Fox News articles!
After all the hype and giddiness of the past week, the reality turned out to be anticlimactic. Jurgen Klopp's reign began with a 0-0 draw at Tottenham and so he became the sixth successive Liverpool manager to fail to win his first game.
A draw away at an improving Tottenham Hotspur is no disgrace, of course, and there were plenty of positives in a combative performance but this, perhaps, was a reminder to those expecting a miracle that improvement takes time.
Even before kick-off, the atmosphere had been excitedly expectant. Dozens of fans - of both clubs - had clamored at the metal fences around the car-park to get their pictures of Klopp getting off the team bus. In the Liverpool end there were banners reading "Liverpool Uber Alles", "Jurgen, Wir Glauben," and "Jurgen's Reds - Scouse nicht Englisch" and another featuring Klopp's face on a "We Believe" flag. 23 photographers surrounded the Liverpool bench as Klopp took his position, a wry grin on his face as he looked around with studied casualness.
There has been something simultaneously touching and worryingly needy about Kloppmania, the manager's obvious charisma feeding the yearning for a messiah that has been a feature of Liverpool's support since Bill Shankly invented the role in the early sixties.
The practicalities, though, are problematic. The gegenpressing - the radical form of pressing popularised by Barcelona and in Germany over the past decade that looks to stifle counter-attacks almost before they have begun - that Klopp practized at Germany requires the assimilation of internal structures. That takes time - certainly not the three training sessions Klopp has had with his team this week. If there is a lift over the next few weeks, it will be the result of Klopp's personality rather than anything systemic.
The limitations of his squad were apparent in his team selection. With Daniel Sturridge withdrawing with a knee problem, and Christian Benteke and Danny Ings both already out, Klopp was effectively forced to field Divock Origi at center-forward. The assumption had been that he would employ the 4-2-3-1 he had used at Dortmund, but instead he opted for a 4-3-2-1, with James Milner, Lucas Leiva and Emre Can protecting the defense and Philippe Coutinho and Adam Lallana creating.
There was a real urgency to Liverpool's play early on, a ferocious hunting of the ball, all heartily applauded by Klopp, who spent the game standing on the edge of his technical area. Emre Can, in particular, charged into everything, as though all he's needed to become a whizzing blur of energy was some boy constantly yelling, "Ja! Ja! Come on!" at him.
Liverpool almost took the lead after 10 minutes, a right-wing corner from Milner being flicked on to Origi whose close-range header came back off the underside of the bar.
The intensity of their start, though, soon seemed to catch up with Liverpool and by half-time Spurs looked by far the more dangerous side. Simon Mignolet made an excellent diving save to his right to keep out the substitute Clinton N'Jie's effort with the outside of his right foot and then, after Mignolet had blocked a Harry Kane shot with his feet, a sprawling Mamadou Sakho cleared Dele Alli's follow-up effort from the six-yard line.
There were still occasions after the break when Liverpool forced Spurs' defense into awkward retreats, but the manic nature of the pressing had subsided. The result was a game that had fizzed with intrigue became rather shapeless, although Liverpool probably had the better of it.
Long spells of the game seemed to consist of the ball bouncing rather aimlessly around in the Spurs half, Liverpool's pressure preventing Tottenham getting the ball clear but without the creative composure to break Spurs down. Milner, in particular, overhit a string of passes.
For Spurs, Harry Kane was left to pursue a thankless role as the lone forward, chasing clearances with Martin Skrtel hanging forever off his shirt. In terms of goals it made his record look even worse this season - just one in nine in the league now - but there was no faulting his application or the intelligence of his attempts to spin scraps into something more worthwhile.
He nearly snatched a winner with six minutes remaining, striking his shot cleanly enough from the edge of the box after dainty build-up work from Eriksen, but Mignolet, diving to his left, beat the ball away.
Liverpool could take heart from the way it recovered after the slump towards the end of the first half, and form certain promising moments of intermovement, but it will take a while, and a few players returning from injury, before this is the team the club's fans expect from Klopp.