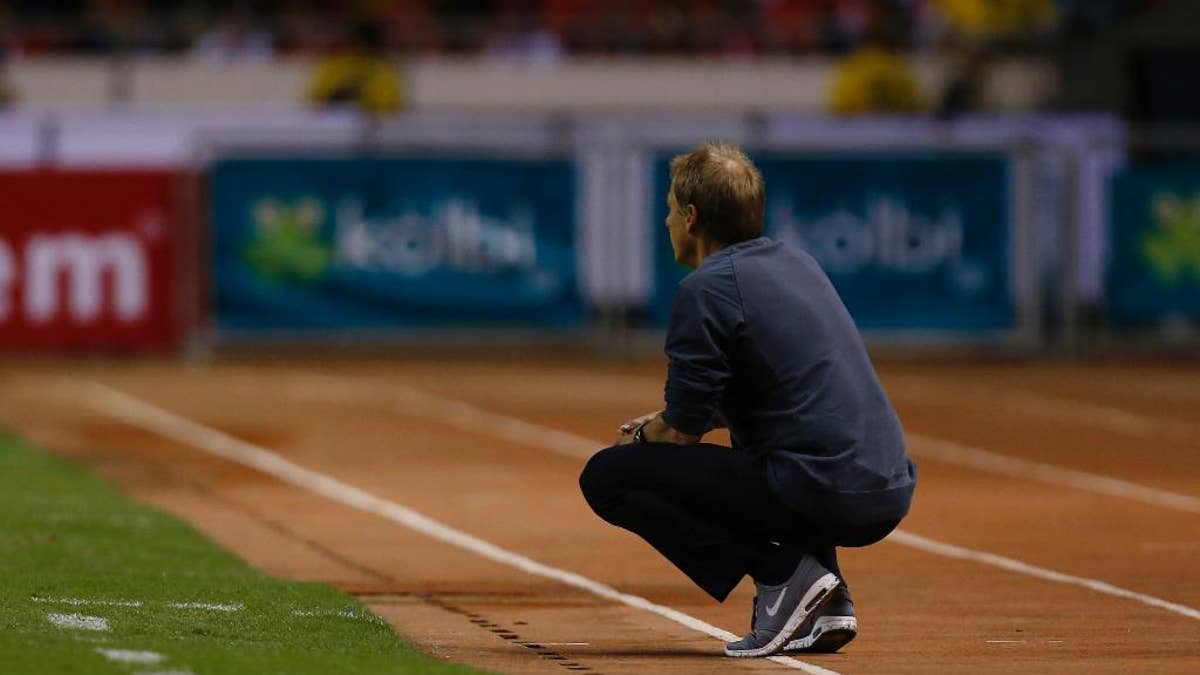 SAN JOSE, Costa Rica – Looking a bit shocked, Jurgen Klinsmann called it a "bitter moment" four times in 14 minutes and also a "bitter pill to swallow" during his post-match news conference. He described the 4-0 wipeout in a World Cup qualifier against Costa Rica as "the defeat that hurts most" during his five-year tenure as U.S. coach.
Time for a new leader?
Outside the room, U.S. Soccer Federation President Sunil Gulati expressed patience.
"We don't make any decisions right after games," Gulati said. "We'll think about what happened today and talk with Jurgen and look at the situation."
The U.S. is 0-2 in the final round of World Cup qualifying for the first time following a 2-1 home loss to Mexico last week and its ninth straight defeat in a qualifier at Costa Rica. Given a rare opportunity to coach a national team for a second World Cup cycle, Klinsmann is under renewed scrutiny by critics who claim his reign has gone stale.
"I obviously understand that when you lose two games and especially two World Cup qualifiers right after each other, that there will be a lot of your comments," he told reporters after the match. "That is just part of the job."
A World Cup champion with West Germany in 1990 and the coach who led Germany to the 2006 semifinals at home, Klinsmann replaced Bob Bradley after a poor U.S. performance in the 2011 CONCACAF Gold Cup, where Mexico beat the Americans 4-2 in the final.
Klinsmann coached the U.S to the 2013 Gold Cup title and the second round of the 2014 World Cup, where the Americans lost to Belgium in extra time, but the U.S. was upset by Jamaica in the 2015 Gold Cup semifinals and lost a playoff to Mexico for a Confederations Cup berth, sparking skepticism of personnel decisions and tactics.
Play improved again at this year's Copa America, where victories over Paraguay and Ecuador advanced the U.S. to the semifinals — and a 4-0 loss to Lionel Messi and Argentina.
Then came the start of the hexagonal, as the final round of the North and Central American and Caribbean region is known, and it could not have gone much worse.
"When you lose 4-nil, there are issues, absolutely," Klinsmann said.
Soccer powers traditionally have little tolerance for defeat.
When Mexico lost a World Cup qualifier at home against Honduras in September 2013, coach Jose Manuel De la Torre was fired about 4 1/2 hours after the final whistle and replaced by Luis Fernando Tena. When El Tri lost a few days later in the United States, Tena was replaced within 48 hours by Victor Manuel Vucetich. Two games later, Vucetich was supplanted by Miguel Herrera.
"Obviously, it's not a good start to the hex and today in particular was not a good performance," Gulati said.
Because the top three nations qualify and the No. 4 team advances to a playoff against Asia's fifth-place finisher, there is much room for error. That won't quiet fans who have four months to vent before qualifying resumes with a home game against Honduras on March 24 and a match at Panama four days later.
"This is definitely a moment to reflect about what happened the last 10 days and to probably open up a lot of discussions with the players, with the team," Klinsmann said.
He also was criticized in March 2013 after the Americans opened the hex with a 2-1 loss at Honduras. They rebounded the following month to beat Costa Rica 1-0 in a Colorado snow storm and tie 0-0 at Mexico, and they went on to clinch a World Cup berth in the eighth match of the 10-game round. After qualifying and before the World Cup, Klinsmann shifted Martín Vasquez out of his assistant's role and brought in former Germany coach Berti Vogts as a technical adviser.
The U.S. has shifted coaches during qualifying just once in the modern era. Bob Gansler, then coach at Wisconsin-Milwaukee, took over from Lothar Osiander in January 1989 when the USSF transformed the position to a fulltime job, and Gansler's team qualified for the 1990 World Cup — the first for the U.S. in 40 years.
Gulati, the USSF president for the past decade, moves methodically, consulting his board and advisers.
"Was the result embarrassing? Yes. But I'm not embarrassed by our team. I'm very disappointed, obviously."
Most of the players won't gather again until March 20, just ahead of the Honduras match. The margin for error has narrowed, especially with Mexico, Costa Rica and Panama opening with road wins.
"There's going to need to be some urgency," U.S. captain Michael Bradley said. "We're going to have to look collectively real hard in the mirror at ourselves and understand it's not been a good start. But the reality of this hexagonal format is that nothing is lost yet, not even close. So anybody who thinks that is sorely mistaken."