Klay Thompson makes a big splash as Warriors beat Rockets without Curry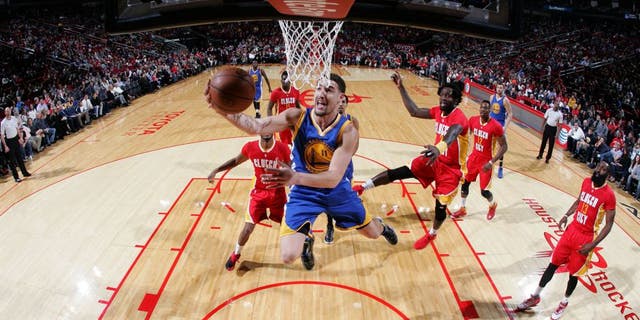 Can a team that's 30-2 still be sending a message?
With reigning MVP Stephen Curry sitting out a second straight game with a leg bruise, the Golden State Warriors beat the Houston Rockets Thursday 114-110. Not only did the Warriors show they can win without Curry, but Klay Thompson, who struggled on Wednesday in a loss to the Dallas Mavericks without his backcourt mate, also out-dueled the Rockets' James Harden.
The two had a little back-and-forth recently when Thompson named himself as the NBA's best shooting guard. Harden haughtily dismissed Thompson's comments, saying, in part: "People are going to talk. Just let them talk and do whatever they're going to do. ... But we really know what's going on."
What went on Thursday was that Thompson scored 38 to Harden's 30, shooting 16 of 27, including 6 of 11 on 3-pointers, while Harden shot 8 for 19 (5 for 10).
Thompson said the Warriors wanted to make up for Wednesday's blowout.
"Last night was embarrassing," Thompson said, via The Associated Press. "We had every excuse in the world, but we didn't want to come away 0-2, so we figured out this would be a much bigger statement win if we responded like we did and won with playing 10 guys."
And though Thompson didn't have a single assist, that department was ably handled by versatile forward Draymond Green, whose triple-double went like this: 10 points, 11 rebounds and 16 assists. Green's triple-double was his league-leading fifth this season.
The Warriors have beaten the Rockets seven in a row in the regular season.